My discovery of the amazing Shrinathji Pichwai paintings.
I'm so happy to share my journey and experience with one of the most beautiful forms of Indian folk art, Shrinathji Pichwai painting. I hope you'll enjoy this article.
Please do leave your feedback in the below comments section.
Thank you,
Simran Saraf – International Indian Folk Art Gallery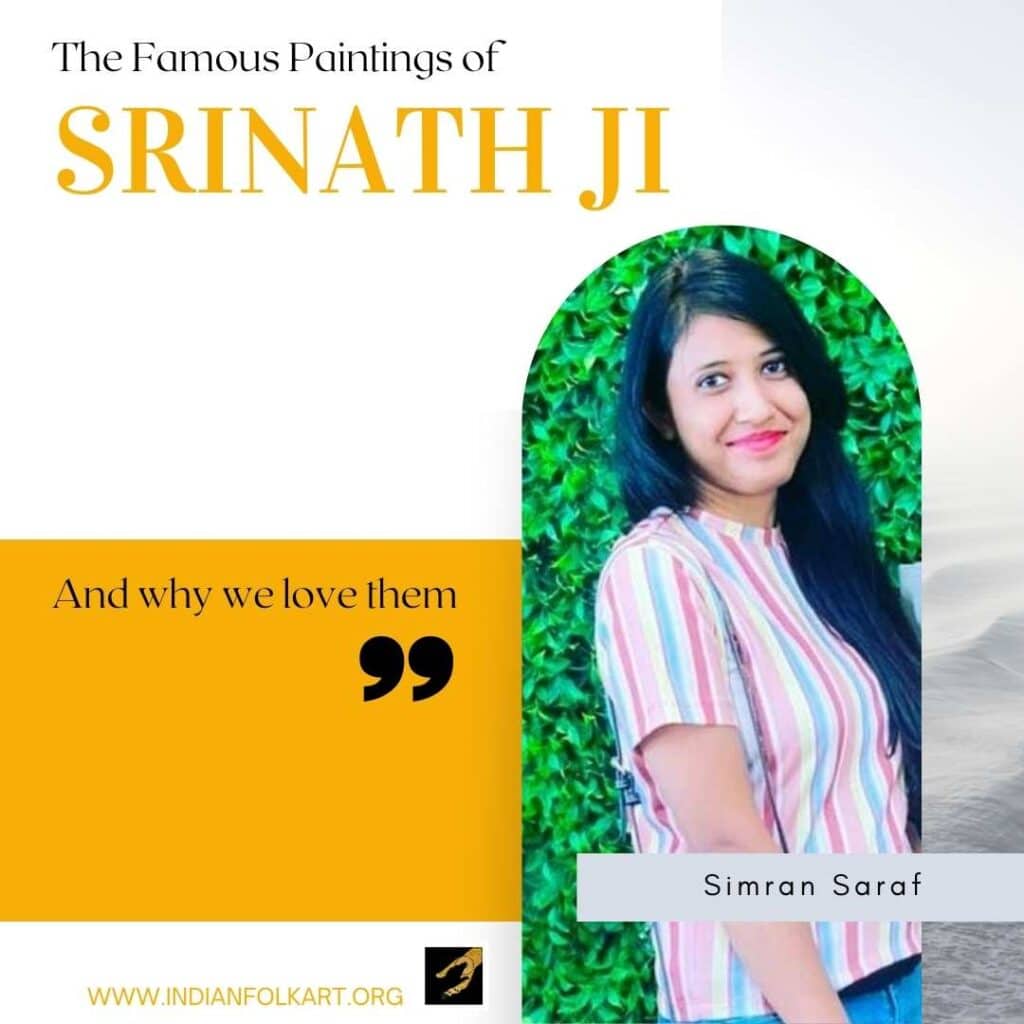 Introduction: Where is Shrinathji Pichwai Painting from?
Shrinath Ji Pichwai Painting
Pichwai paintings also known as "Pichvai" is a traditional Indian folk art having its origins in Rajasthan, India.
It consists of a series of painting on cloth using natural colors and vegetable dyes. These Pichwai paintings are done with a natural brush made from animal hair or cotton threads.
Pichwai paintings are mainly made to hang in Hindu temples of the Pushtimarg devotional tradition, especially the Shrinathji temple in Nathdwara, Rajasthan, built around 1672.
Origin of Pichwai Painting
Pichwai Painting is a traditional Indian art that has its origins in Rajasthan, India. It was widely practiced by the ancient Indians and later during the Mughal era. It was revived in the 20th century and is today practiced all over India and internationally.
How old is Pichwai Painting?
Pichwai (pichvai) is a style of Indian folk art that originated over 400 years ago in the town of Nathdwara near Udaipur, Rajasthan, India. Intricate & visually stunning, pichwai paintings are made on cloth and typically depict tales from Lord Krishna's life.
Purpose of Pichwai Painting
The purpose of Pichwai Painting  is to narrate tales of Krishna to the illiterate
The Holy City Of Nathdwara
Nathdwara city is famous for the temple of Krishna. Nathdwara is a significant Vaishnavite shrine pertaining to the Pushti Marg. It was built in the 17th century.
Nathdwara is a city in the western state of Rajasthan, India. It is located in the Aravalli Hills, on the banks of the Banas River, in Rajsamand District, 48 kilometres north-east of Udaipur.
To protect Lord Krishna's idol from Mughal ruler Aurangzeb, it was transferred from Vrindavan to the village of Sinhad. When the idol reached Sinhad, the wheels of the bullock cart sank deep in mud and it could not be moved further.
The priests realized that it was a spot chosen by the Lord. So the temple was built there under the rule of Maharana Raj Singh of Mewar.  Pichwai paintings are hung behind the idol of Shrinathji, a local form of Krishna and the centre of Pushtimarg worship, to depict his leelas. Aurangabad was another area associated with them.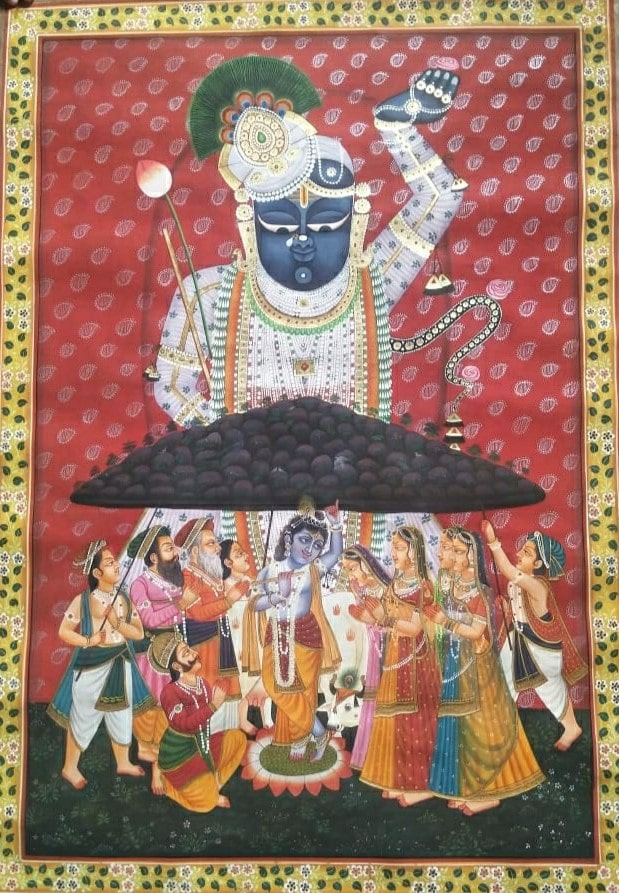 Pichwai Painting Technique, How are they made?
Originally Pichwai was painted on the handspun starched cotton fabric, usually a thick woven cotton cloth. These drawings were usually outlined on a black or white background.
Zinc white and charcoal were used by the artisans to sketch the respective backgrounds. The artisans would then sketch the art on that starched cloth. The decorative and beautiful images are created.
Then images are ready to be painted with completely organic and natural colors, (The colors originally were obtained from coal, zinc, indigo, saffron, gold , silver etc) paints and even natural brushes. (Goats, squirrel and horse hair were used to make bristles for brushes).
The famous paintings of Pichwai have a bright colour palette consisting of red, yellow , black and green which are some of the most common hues.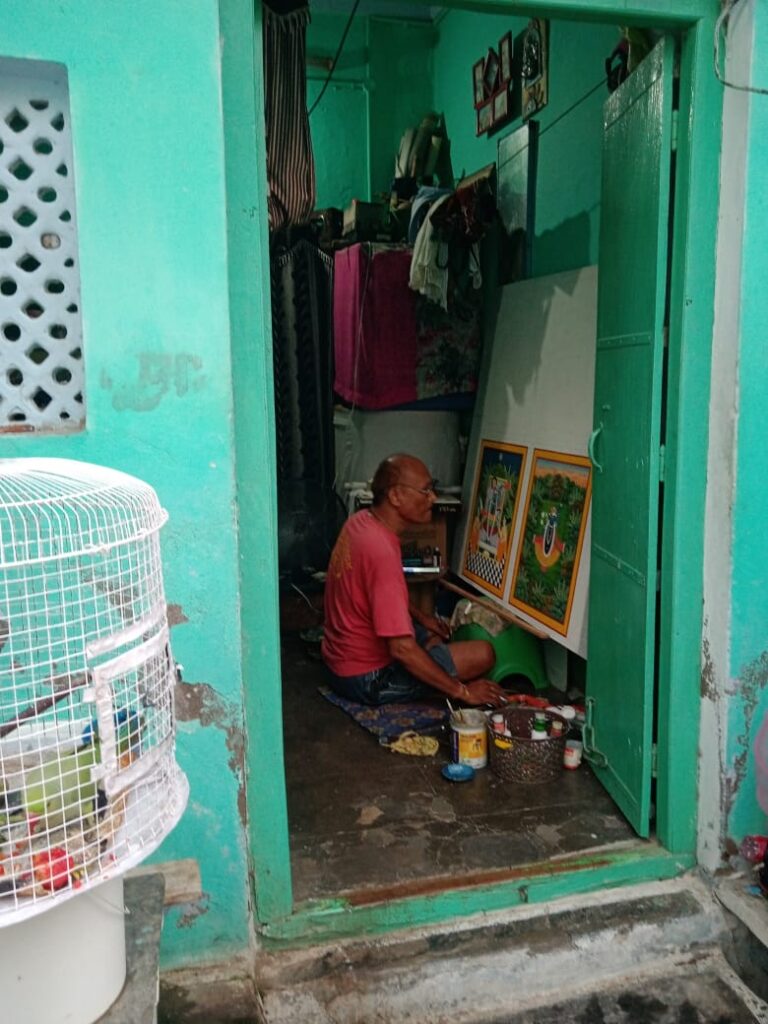 What are the different themes of Pichwai Painting?
The Ras Leela –   It depicts  Lord Krishna's dancing with the Gopis. Krishna appears eight times dancing with alternate pairs of Gopis in a circle. This dance form also addressed Rasleela with many forms of Shrinathji . These paintings are drawn by local artists using natural colours.

The Giriraja  Pichwai – It depicts Lord Krishna carrying the mountain Govardhan on his little finger. It was done so to protect the people from severe rains.

The Morbuti – It portrays 12 peacocks dancing for the attention of a flock of peahens.

The Gopashtami – Gopashtami is a festival celebrated by Hindus . They worship cows  together with Lord Krishna.  It marks the day when Krishna officially becomes a cow herd . Krishna is known as the eternal protector of cows.  It shows Lord Krishna playing his flute and enjoying himself surrounded by his cattle.
What are the Famous Pichwai Paintings?
There are many famous paintings from the Rajasthan region of India primarily in the city of Udaipur. This has helped to ensure that these paintings are not only popular in India, but around the world.
Shrinathji (Shri Krishna)black and gold Pichwai Painting

Shrinathji (Shri Krishna ) with cows gold Pichwai painting

Sharad Purnama Antique Pichwai painting – Among the Pichwais , an intriguing ensemble is the celebration of the autumn festival of Sharad Purnima , the swing ceremony of Radha and Krishna on the night of the full moon.

Krishna entertaining his companions Pichwai Painting

Raas Leela Pichwai painting – This Painting depicts Krishna along with the gopis on a full Shrinath ji (Shri  Krishna ) Durbar Darshan painting

Contemporary style Orange Nandi Pichwai Painting

Contemporary style Blue Nandi Pichwai painting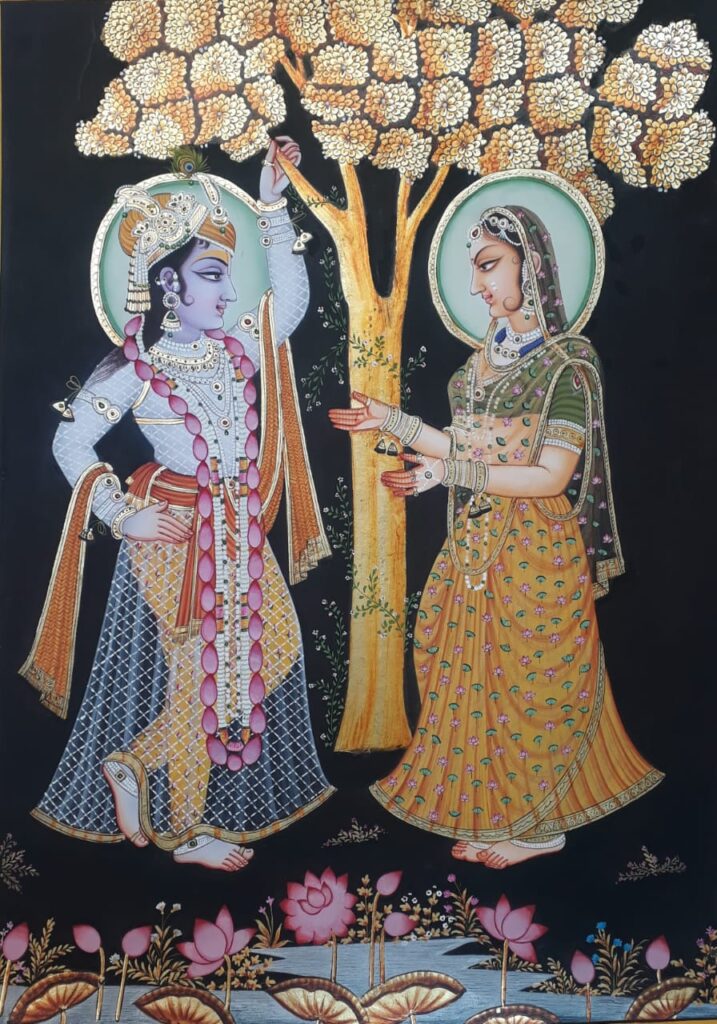 Gold tree of life – The tree of life is a fundamental widespread mytheme or archetype in many of the world's mythologies, religious, and philosophical traditions . It is closely related to the concept of the sacred tree.

Krishna and the Gopis takes Shelter from the Rain

Lotus Pichwai painting – Pichwai paintings and lotus flower are almost synonymous with each other – The lotus flower was so loved by Lord Krishna that other than holding one lotus in his right hand and wearing a Garland of lotuses, even his bed was decorated with lotus flowers.

Shrinathji Charan Darshan Pichwai Painting
What is Chowbees Swaroop?
An example of a Pichwais painting, which often refers to Lord Krishna. The paintings often have a lot going on in them and they are brimming with relevant motifs and bright colours.
Sometimes, Pichwai artworks may look a bit crowded but the elements never overlap each other which makes the overall image aesthetically
This is one of the most sought after categories from this generation. One of the most distinctive features of Pichwai art is Chowbees Swaroop, i.e., Krishna's 24 divine avatars – usually found alongside him on the painting.
Today, many artists have deconstructed the Chowbees Swaroop by turning them into individual Pichwai paintings.
With decorative elements from Mughal paintings, these miniature paintings have developed a soul of their own.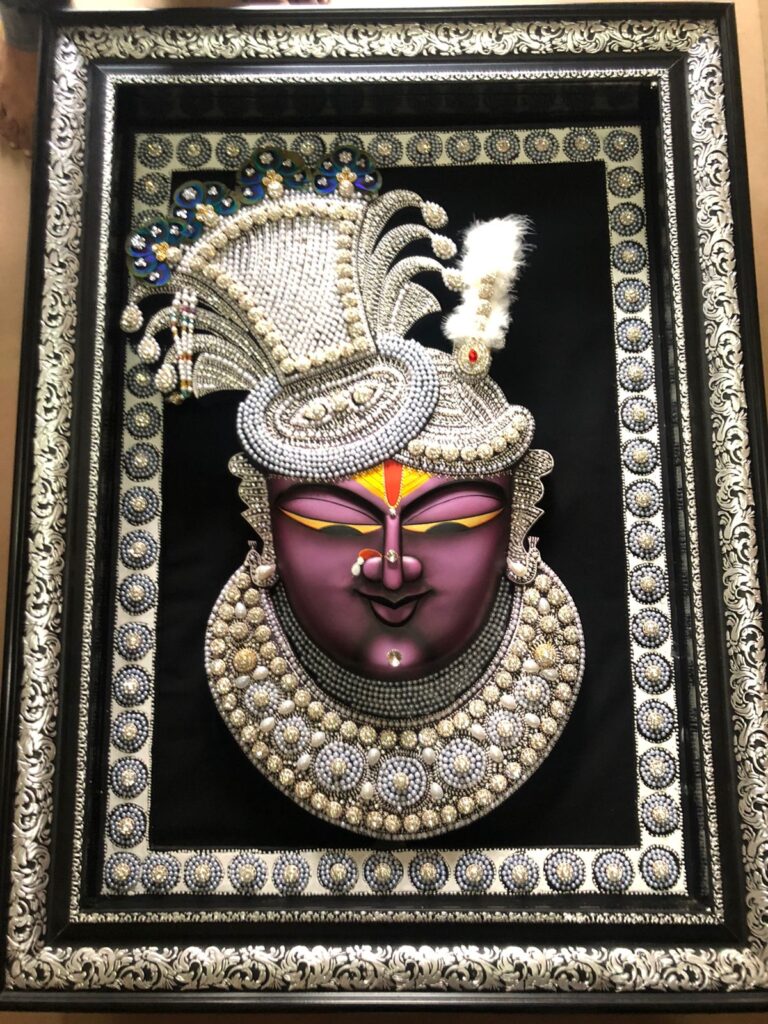 The Non-Religious Pichwai
Some of Pichwai most famous artworks have emerged from this beautiful process of scaling down an ornate painting into something more easily consumable to create a smaller nugget of artistic beauty.
Scaling down an ornate painting into something more easily consumable to create a smaller nugget of artistic beauty is an ancient process called ablation. Sculptors, painters, and goldsmiths all use ablation to transform their larger works into something more manageable for purposes of transport or consumption.
All paintings often contain common motifs like lotuses, cows, trees, peacocks and gopi's. One of the most interesting things about these motifs is that they each have symbolic meanings that vary between different cultures. While Pichwai art may have originated in a temple, not all paintings are religious in nature.
Perhaps, this is why Pichwai famous paintings have found a humble abode in the walls of many living rooms and offices. Many Pichwai paintings depict serene scenes of flora and fauna, with motifs like lotuses, peacocks and cows. They make excellent wall art for living room decorations.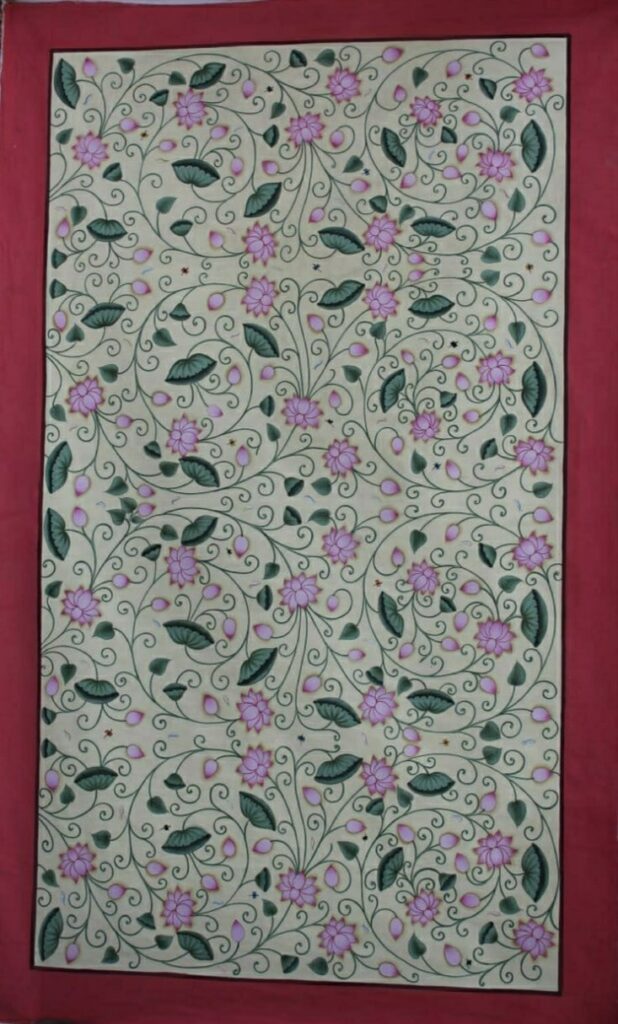 What Sandhya Aarti Pichwai Painting?
Sandhya Aarti is another popular theme for a lot of Pichwai' s most famous paintings. This refers to lighting the lamp in the evening to mark the return of Lord Krishna after a day of herding cattle.
Some of these Pichwai artworks show Lord Krishna's deity flanked by priests, replicating the scene at temples where devotees gather for an evening darshan.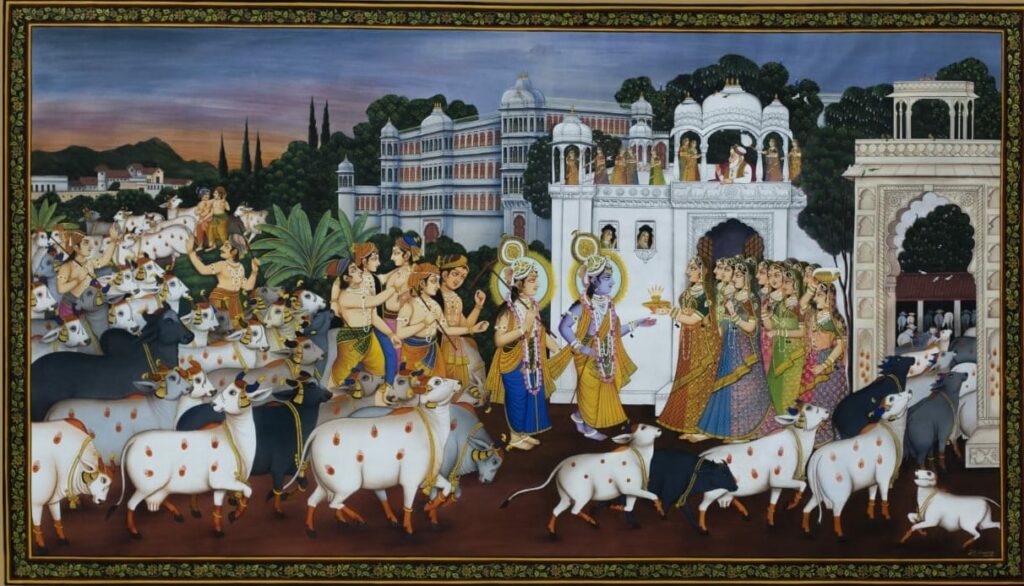 What Morkuti and Gopashtami Pichwai Painting?
Morkuti Pichwais, as the name suggests, depicts peacocks welcoming the rainy season by dancing—akin to Raas Leela. Just like there's a separate category of summer Pichwai art, Morkuti Pichwais are dedicated to the freshness of the monsoon season.
Similar to Pichwai most famous painting of Raas Leela, Morkuti Pichwais show peacocks dancing in full abandon around Lord Krishna to welcome the rain.
Gopashtami Pichwais are dedicated to the auspicious event of Gopashtami which marks Krishna's promotion from a herder of calves to an adult cowherd.
Cows are an integral part of Lord Krishna's life and Pichwai paintings, alike since he was a gwala (cowherder). The festival of Gopashtami celebrates his promotion from a herder of younger calves to fully grown cows.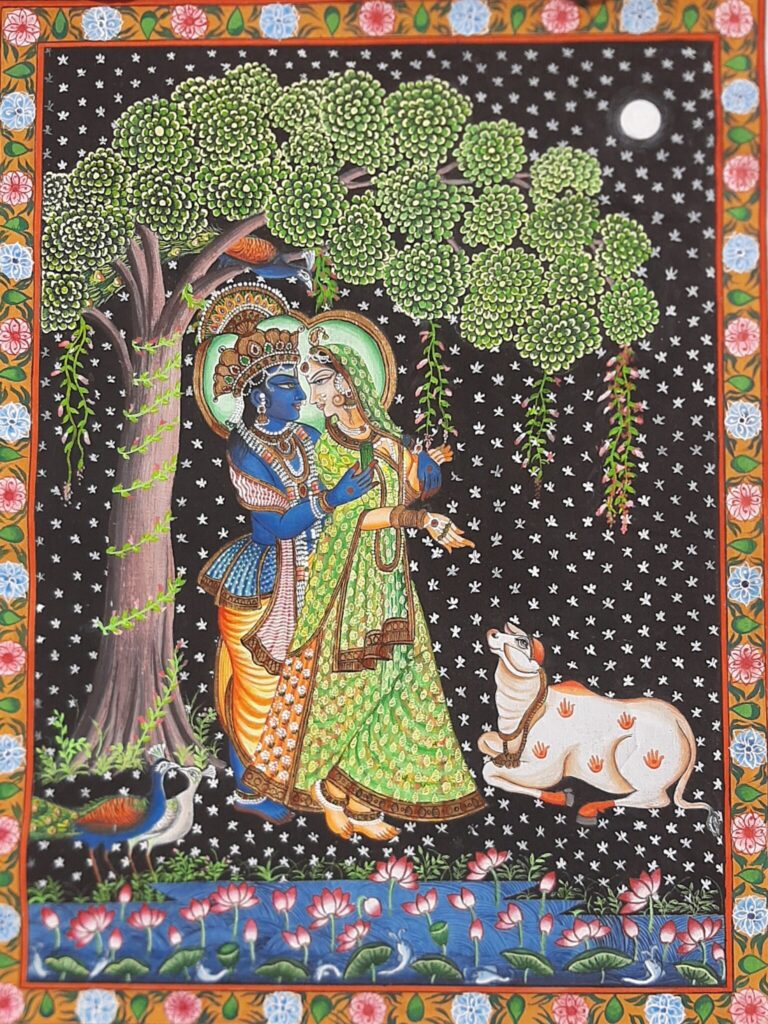 Pichwai Painting Tutorial, How to learn online?
My name is Grishma shah. At the age of 13, I started painting. I am a fine arts graduate from Ahmedabad.
I have been conducting both online and offline workshops for the past four years and have students from all over India and outside. I believe that practice can help anyone learn the art, and I m really passionate to teach as many people as possible.
I have simplified the process to the extent that a non – artist can also learn Kalamkari. My specialization lies in Indian folk art Kalamkari, Pichwai painting, and Tanjore painting.
I've created this GS03 Pichwai Course for Beginners, Pichwai Cow" for everyone to learn this beautiful Indian Folk Art.
The step-by-step detailed video instructions allow anyone to follow the course and complete the artwork from the comfort of their home, at their own time and pace. Don't forget to download the course certificate once you have completed the course.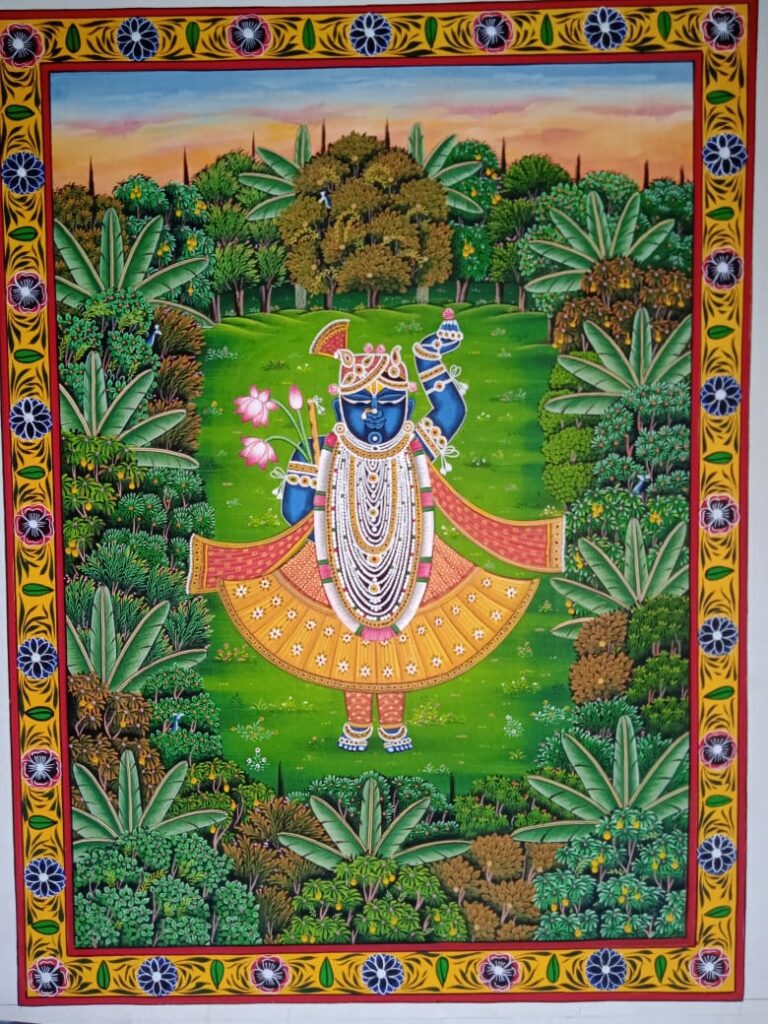 In conclusion, we can say that Pichwai paintings are the product of many centuries of rich culture and tradition. They bring absolute joy and hope to many homes. If you are planning to invest in one, trust that this article provides you with insights and some basic information that will help you make the right decision.
Share your experience in the comments below or write to us if you need any assistance in choosing the next Pichwai painting.
Discover Indian Folk Art - Support Indian Artists