Hi, I'm Riyanka.
Currently I'm a high school student who'll go to college pretty soon. I aim to do something in the field of technology.
I fancy writing a lot, I started writing blogs during the lockdown, just when I thought there's more to life than the daily things we see. Apart from that, I'm a very curious person by nature and a foodie. I enjoy listening to music of almost all genres and travelling.
I visited an event organised by International Indian Folk Art Gallery in Mumbai and I was very fascinated to see the artwork, and learnt a lot about different types of artworks.
I then decided to write a blog earnestly about the event and for International Indian Folk Art Gallery.
Please do leave your comments below for me, thank you!
When was the last time you heard or saw an Indian Folk Art?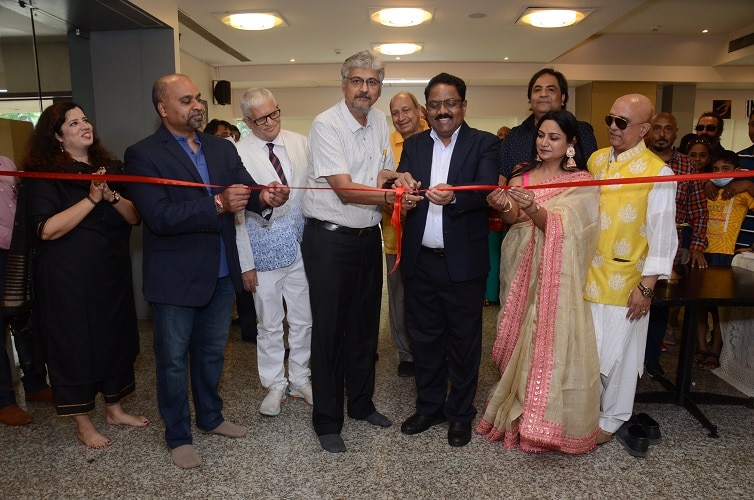 When was the last time you heard or saw an Indian Folk Art?….  I am quite sure it must have been ages.
You see, Indian Folk Art is an ancient art form that dates back to 3000 years ago and is still practiced in a few places in India. It is universally accepted that it is the form of an expression and communication for mankind, even in the most uncivilized eras.
The people in that era lived a simple and natural life, so folk art helped in representing the lifestyle and experiences of people then. However, with the rise of Modern Art, many ancient art forms advanced and some vanished as well!
Many of these artforms, are on the verge of being extinct. Thankfully, International Indian Folk Art Gallery (IIFAG) in partnership with Kalasparsha Group, India held an exhibition at Kamalnayan Bajaj Hall in Mumbai from 28th Feb to 5th March, 2022 representing some of the rarest Indian Folk Art and the winning artwork from Lok Kala Ratna Artwork 2021 and ensuring it came into limelight.
Quite recently, I went to Mumbai and came across an Mumbai 2022 – Exhibition & Sales of Endangered Folk Art at Nariman Point. I was intrigued and keen to go there. I was happy and fascinated to see few scarce and exceptional pieces of art.
Videoshots Entertainment was the official media partner for this event.
Mumbai 2022 – Endangered Folk Arts of India
There were paintings from a diverse age group, from young to old. They also divided the groups into professional and amateur, ensuring everyone interested can get a chance. The paintings were quite magnificent, and ancient. Folk art can be classified in four categories:
Religious Folk Art: This folk art emphasizes on the art that is based on the religious rites and worship of God and deities, this folk-art religion holds a prominent place.
Utilitarian Folk Art: This art represents more of our necessities such as Caves, utensils, clothes etc.
Personal Folk Art: This art represents and fulfils the personal strivings and needs.
Amusement Folk Art: The art emphasizing on patterns that are done for amusement, for example a woman hennaing on their hands etc.
The Mumbai 2022 – Endangered Folk Arts of India exhibition ensured to put up paintings from all four categories and even had Warli paintings, which is one of the oldest Indian art forms, originating from the Western Ghats of India in 2500 BC.
It was great to see all the paintings and meet the people who organized this event. They ensured to put up an amazing event and host the guests really nicely. It's good to see there are people who are still taking initiatives to ensure the Indian Folk Art is remembered and romanticized today as well!
On the first day of the Mumbai 2022 – Endangered Folk Arts of India exhibition, the exhibition was inaugurated by the Chief guest Mr. Rajiv Mishra (Director, Directorate of Art, Maharashtra) along with other honourable personalities as Mr. Chandrashekhar Pusalkar (Grandson of Dada Saheb Phalke), Chitrakar Sadashiv Kulkarni (Teacher, Artist), Mr. Kumar Khaire (Jt. MD. Film City), Mr. Ravi Sinha (Director Hi Impact Pvt Ltd), Mr. Sudhir Pandey (Actor), Mr. Rajesh Puri (Actor), Ms. Seema Bakliwal (Vice Chairperson, Bakliwal Foundation), Mr. Akhil Mishra (Actor, Director & Writer), Ms. Suzenne Bernet( Actress), Mr. Sanjay Sardhana( Actor & Social Worker), Ms. Sanober Pardiwala(Stunt Girl, Bollywood) and the last but not the  least, Ms. Rekha Sunil (Art Enthusiast).
The guests and artists were honored by Mr. Senthil Vel, Founder and CEO of International Indian Folk Art Gallery (IIFAG), Australia, who also bestowed shawls, bouquets, and traditional gifts.
Mr. Rajiv Mishra, Director of Directorate of Art, Government of Maharashtra addressed the audience and emphasized on the speech of how important it is to protect the traditional Indian folk artists and our rich and diverse culture of the Indian folk art.
The artists of the paintings displayed were also invited. They traveled from different parts of India. The visitors got the chance of coming and appreciating the paintings, as well as, recognizing and meeting the artists.
The International Indian Folk Art Gallery (IIFAG) managed to curate over 100 selective artifacts from all over India from a very diverse age group. These include children from the age of 6 to 18, along with amateur and professional artists.
The Mumbai 2022 – Endangered Folk Arts of India exhibition included many different types of paintings such as a collection of Tanjore Paintings along with Pichwai, Mandala, Warli, Pattachitra, Saura, Kerala Mural, Madhubani Gond, Mysore, Cheriyal, Kalighat, Patua, Mata Ne Pachedi, Palm Leaf Engraving and Kalamkari Paintings.
The Mumbai 2022 exhibition received some good and positive feedback on its first day, along with a warm response from the diverse age group. I personally really enjoyed and loved attending the exhibition too.
On this day, at Mumbai 2022 – Endangered Folk Arts of India event there was a live workshop for Pattachitra and Pichwai paintings. Few traditional Indian Folk Artists travelled all the way from Odisha and Rajasthan to run the workshops.
They gave us some insight on the materials used and how they make such paintings. The paintings were made on paper, the utensil used for making Roti (a type of Indian bread), and the artists also recycled plastic products such as Amul Kool beverage bottles by painting on them.
The guests had one to one session giving a brief idea of what the paintings express, and, how they are made.
On this day, a live workshop was held by Artist Daulat Ram Gurjar (Pichwai Artist, Rajasthan). Quite a few paintings were sold and the buyers had a brief, yet interesting conversation regarding Indian Folk Art, sharing some of their knowledge with each other.
This day was even more eventful and exciting because many students from Dr. BMN College of home science, Matunga (Textile Branch) and Sofia Polytechnic, Breach Candy came to attend the live workshop on Pattachitra paintings, they were provided with all the materials required.
They participated enthusiastically and happily, creating some really spectacular artwork. The next workshop was on Pichwai Paintings, the students here got an opportunity to observe how the paintings are made by the artist Mr. Daulat Ram Gurjar (Pichwai Artist, Rajasthan) this day too. Some light was also thrown on how these paintings originated.
All the different paintings were given a space of their own. For example, paintings of gods and goddesses were kept in a different corner, while Mandala paintings were displayed in another corner. None of them were mixed.
It actually radiated some really tranquil vibes; they were just magnificent to look at! There was a really cool 3D painting as well, which is quite rare to see in India.
All the artwork did not fail to remind you that there are a thousand different emotions and experiences in it, each with a unique story to tell. You'll feel proud of the Indian culture once you see the artwork!
There was a special corner where the Guru of Mr. Senthil Vel (Founder of International Indian Folk Art Gallery), Shipguru Sri Venkatesa Raja's artwork was displayed, he even got an award from the President of India for his contribution to Tanjore Painting, it is a really rare and traditional artwork, he used the traditional methods, gold leaves and semi-precious stones to make it.
A special artist was invited who used his paintings in watches, sharing few tips and tricks on it. Few of the artists whose artwork had been displayed also came from different places to visit.
If you want to learn how to make such artwork, you can visit their website www.indianfolkart.org there is a section "Gurukulam" where few customized courses are made.
On this day a special guest was invited, who was asked "What he feels about this exhibition", while giving the answer he talked about how few art forms have just vanished or say became extinct itself, you can't see them anymore in any of the places, the value is depleting day by day because people have a hard time understanding the emotions and value behind them along with a few other complications, which makes him a bit sad, it indeed is an irony.
We must try to ensure that the paintings that are on the verge of extinction are valued and respected. The local artists gave an introduction of themselves and showed what all paintings they made and how they felt when they were invited.
Many students from Sofia Polytechnic, Breach Candy came to see a live demonstration of Pichwai Painting, which was demonstrated by Mr. Daulat Ram Gurjar (Pichwai Artist, Rajasthan) himself. He felt immense joy and was proud to demonstrate the paintings to the current generation of students.
The teachers of the college told how they like to take their students to such workshops so that they can see, learn, and paint. One of the local artists also demonstrated a type of painting to the college students. All the students made their own traditional painting after seeing the demonstrations; it turned out to be really good.
On this day, two live workshops were held and many college students came to attend. The workshops were given by Mr. Sushant (a local artist) and Mr. Daulat Ram Gurjar (Pichwai Artist, Rajasthan), respectively.
The students then made their own type of traditional art painting and also received more knowledge on the traditional artwork. They got to know the history behind it, what type of colours to use, what type of brushes to use, etc.
There were also two workshop full of traditional art, including engraving made on palm leaves, and then another table full of different collections of Pichwai Art, some of which were sold as well.
Sadly, this was the last day of the Mumbai 2022 – Endangered Folk Arts of India exhibition . It was a dream come true for the local artists because they had never been to Mumbai before and they always dreamt of going to Mumbai once, it was like a dream come for them, it meant the world to them.
It was such an amazing opportunity for them because their talents were recognized and showcased so wonderfully. Indeed, Mumbai is the city of dreams, this got proved once again!  There were quite a few people who came this day, and a lot of paintings were sold too.
Few college students came who were happy to see the paintings and were able to relate to it since they had been studying about it in their college it was a good experience for them to see everything in their real life.
The local artists were awarded with trophies and the guests were honoured with traditional shawls and gifts, as well as, were able to have a conversation with the organizers of the event.
It was indeed a mesmerizing experience to go to the exhibition because I learned so much about Indian Folk Art. I had seen a few of the artworks before, but there were also many I had never seen before.
I read about them in my history textbook when I was in lower grades, but I never thought I would see those artworks in person. They're actually made traditionally.
It was indeed amazing to see people taking initiatives to ensure these artworks do not get extinct and come into the limelight, and are still portrayed with the same pride and enthusiasm. They also throw light on the story behind each painting.
One of the best things about our company is the diversity we have in our workforce. We have people of all backgrounds and age groups, and we make sure their talent is showcased and not left in the dark.
Also, we came up with the idea of hosting live workshops, so that people interested in the artwork would have a chance to learn more about it and the artists.
Mr. Senthil Vel flew all the way from Australia with the determination and will to represent Indian Folk Art proudly to people, with tremendous joy and motivation.
"Hard work does pay off" is absolutely true, because all the people who organized this event put in their blood, sweat, and tears to ensure the exhibition does not go south and it didn't because they received an amazing response from the guests!
Lastly, I'd like to conclude by saying "Art is not what you see, but what you make others see"-Edgar Degas and hence, "Art is an irreplaceable way of understanding and expressing the world"- Dana Gioia
By:- Riyanka Dey