Ancient Indian Art Exhibition: Art Event at Chennai, "Endangered Folk Arts of India"
Exhibition Location: Dakshinachitra Heritage Museum
Address: East Coast Road I Muthukadu I Chennai I India
Opening Ceremony: 4pm, Friday, 6th January 2023
Open to Public:
6th January to 15th February 2023
Wednesday – Monday | 10am to 6:00pm
(* Closed on Tuesday)
Indian Folk Art Foundation is an Australian art organisation with deep Indian roots, conceived with the singular goal to highlight the beauty of Endangered Indian Folk Arts while building a cross-cultural connection with Australian art lovers.
Indian Folk Art forms are ancient and versatile.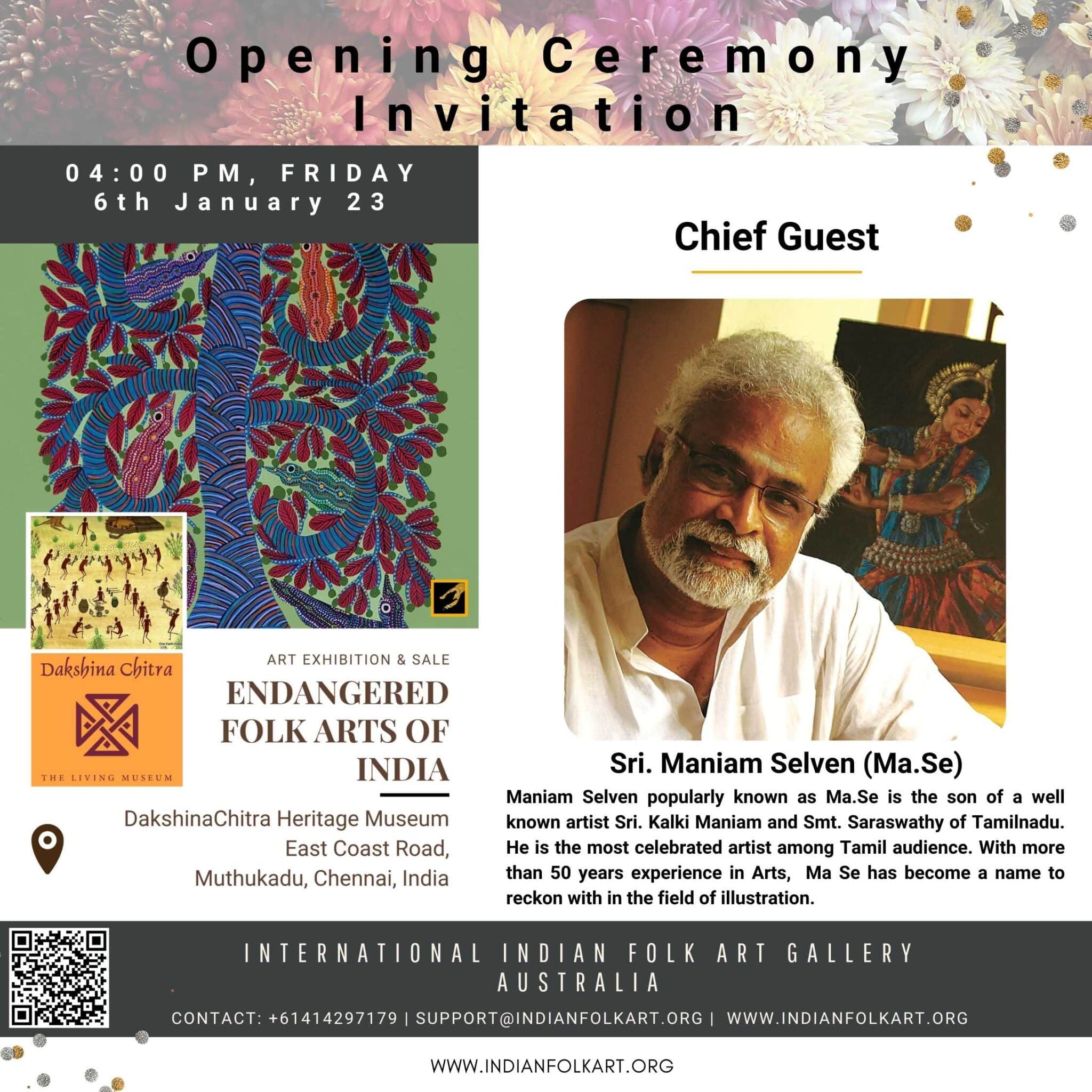 Ancient Indian Art History
There are more than fifty traditional folk arts indigenous and unique to India, each style distinct and originating from various states and territories across India. These traditional arts are over 3000 years old and their survival has been solely dependent on artisans and their small communities passing knowledge down from one generation to the next. Today, some of these Indian Folk Arts are sadly on the verge of extinction due to;
Lack of awareness of these beautiful artworks and limited support for artists
industrial and economic pressure to prioritize alternative careers to the arts in India
diminishing numbers of artisans still practicing and propagating the artform
artform being contained within India with no exposure directed towards art lovers Internationally
Indian Folk Art Foundation, Australia and International Indian Folk Art Gallery, India have hosted many Endangered Folk Arts Of India events including the ones in Mumbai, Bengaluru, Space2B, Hindu Society of Victoria Australia and couple of events planned in USA.
Meet our Chief Guest: Sri.
Maniam Selven (Ma.Se)
Sri. Maniam Selven popularly known as Ma.Se is the son of a well known artist Sri. Kalki Maniam (famous for his illustrations of Ponniyin Selvan when it was first published in Kalki) and Smt. Saraswathy of Tamilnadu, Born on 27 th October 1950.
He is the most celebrated artist among Tamil audience. With more than 50 years experience in Arts, Ma Se has become a name to reckon with in the field of illustration.
He expresses through his creations a gamut of ideas drawn from the epics, history, religion, children's stories, social themes and also essays on varied subjects.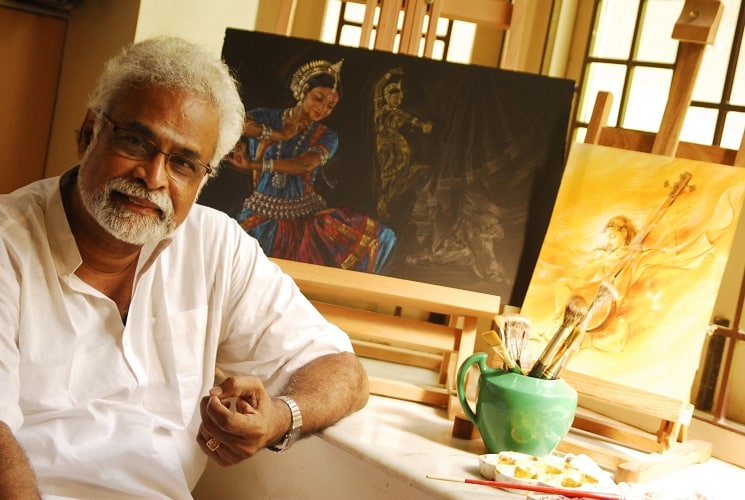 Sri. Maniam Selven, Born illustrator
Though he had been engaged in the field of advertising and also was doing illustrations even as a student, it was his illustrations for a story by Kalki, which was serialized after the author's demise.
MaSe began to get a lot of opportunities from many popular Tamil magazines like Kalki, Ananda Vikatan, Kumudam, Dinamani Kadir, Amudasurabhi , Kalaimagal, Kungumam, Aval Vikatan, Sakthi vikatan , Ramakrishna vijayam etc.
MaSe is not satisfied by just drawing a couple of major characters in the story.
He makes it a point to read the story and brings in a lot of events to give overall feeling to the reader. He takes it as a challenge and tries to introduce new inventions to carry the illustration beyond its limitations and make it into serious art.
When depicting a children's story the characters take a different 'avatar' appealing to the young minds; if it is a romance then the men and women in the story would attract the adult readers with their beauty and charm.
A divine grace elevates the characters when he illustrates religious themes. His illustrations for a serialized story taking place in a southern village bring to life the rugged people and their hard working, struggle filled life; he has used earth tones in the pastel medium to give them a proper texture and aura, that one can almost smell the dust and feel the heat. He is equally at home in watercolour, acrylics, ink, Oil and pastels and he chooses each medium to suit the subject on hand.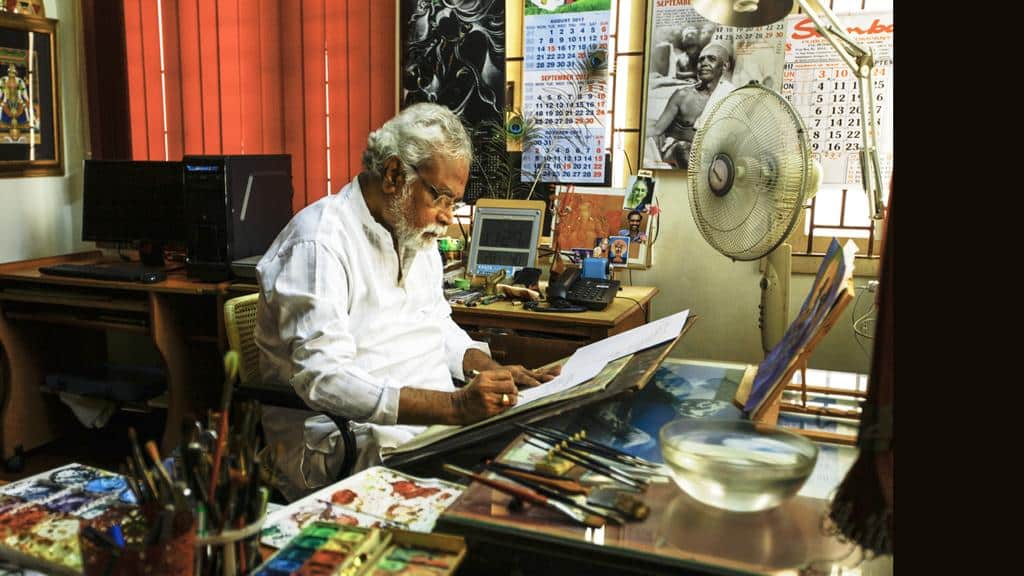 MaSe also takes up commercial work now and then and is a sought after artist for calendars by corporates. He has also done costume designs, movie titles. Ma.Se has done spot work in historical locations, travelled widely in India and abroad and has received several accolades and
awards for his illustrations and contribution to Art.
He is the recipient of NCERT Award, Sri Ganapathy Sthapathy's "Oviya maamani" Award, Kamban kazhagam honour-2006, the Gnana Bharathi (Savi) Award -2002, Paramacharya Award, Rotary club , Thiruppur- For the sake of honour Award -2012, Bharathi Ilakkiya chelvar award – 2014 and "Potraamarai award from la. Ganesan -2015, Mathioli award 2018, "Vocational Excellence Award from Rotary club Chennai – 2018, Artist S. Rajam's Birth centenary celebration – award of excellence – 2019, Aikya – Global Adjustment Foundation's "Outstanding Person Promoting Indian Culture Award 2019".
He has been working for more than 50 years in this Art field.
Sri Manian Selven's Artistic Endeavours
Spot works of various historical and popular locations in Jaipur, Thirukurungudi, Kovilur, Chennai, Harbour, Pondy, Norway , Paris and London.
He has also travelled widely in India, Europe, Singapore, Malaysia, USA, Nepal, Mt Kailash due to his interest to see and experience various cultures. In 1990 he created a unique concept drawing of 'Adhyanta prabhu', a combined representation of Ganesha and Anjaneya, for the temple Madhya Kailash in Chennai India. A separate shrine is now dedicated to this form of Ganesha and Anjaneya Bronze idol.
In 1998 he served as the Art Director for the animated movie 'Pandavas'- Trailer version for Pentafour, Chennai. He has also painted more than 300 portraits of saints and eminent people in various artistic mediums.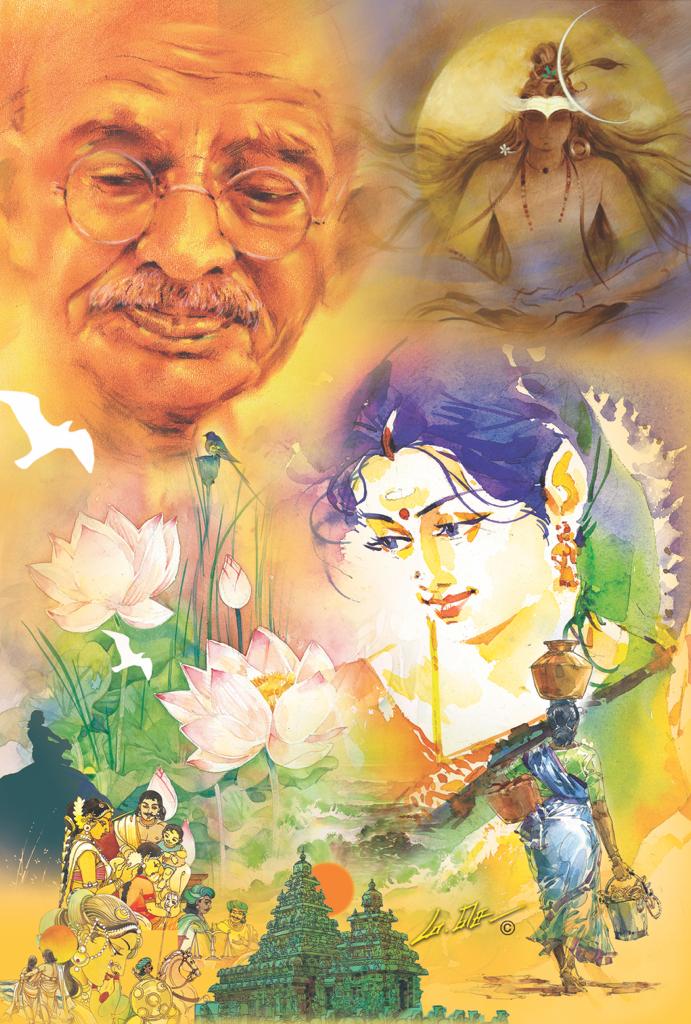 In year 2000, he had illustrated 133 pictures for Thirukkural book published by the International Tamil Language foundation, USA.
In 2003 he illustrated for 'Story of India' article, which was published on the Sunday issue of Indian Express newspaper. It covered topics from Indus valley civilization up to Indian Independence with about 19 half page illustrations.
He has also served in Cine-field creating Title designs, Set drawings, Publicity material, Costumes on request.
He was very much appreciated for his religious work in magazines and various other ashramas publications, like – Ramarkrishna Math publications, Ramanaashram, Krishyamacharya Yoga Mandhiram, Hinduism Today, to name a few.
He has participated in various art camps, conducted art workshops and has delivered lectures to art students and wider community in India and abroad.
Sri Manian Selven's Accomplishments as an Illustrator
With the blessings of Sri Kaanchi Paramaacharyar, his pen and ink illustrations for Braranidharan's Anbe Arule (1993) which was published in Ananda Vikatan was very well received.
He also had the opportunity of illustrating the legend Sri.Kalki's writing : Arumbu Ambugal (1976), Sivakamiyin Sabatham (1991) and other short stories.
His illustrations for the magazines and books including Upanishad, Bhagavadgita, Brahma Sutram, Vedamandiram for Sri Ramakrishna publications along with paintings for Vivekanandar Illam, Chennai from 1984 onwards was well received by the public.
His illustrations for kavingnar Vaali's Avathara Purushan (1996), an abridged version of Ramayana, Pandavar Bhumi (1998) , abridged version of MahaBharatha and Krishna vijayam- (2004) an abridged version of Bhagavatham were very well received.
He has also illustrated various serialised stories of writer Sujatha like Karuppu Sivappu Velluppu (1980), Kaanthalur vasanthakumaran (1985), Pookkutti (1989), etc,.
He attempted a new method of making illustrations for the story Madisaar Mami (1992) by combining photography and illustration.
His remarkable works for Vairamuthu's Kallikkattu idikaasam (2002), karuvaachi kaaviyam (2005), and his poetries, brought him lot of praises and honors.
His illustrations for Oorukku nalladu solven (2005) by Thamizharuvi manian, was very much liked by the readers.
He has also illustrated for many writers and authors like Sivasankari, Indira Soundarajan, La.Sa Ramamirtham, Prabanjan, Kavi. Ko. Abdul Rahman, Balakumaran, Ko Vi Manisekaran, Sandilyan, Jeyakanthan, Anuradha Ramanan, Lakshmi, Indumathi, Ki Rajanarayanan, Malan, Na Parthasarathy, Isai Gnani Ilayaraja, Bengali writer: Contegar for short stories, history & mythology article, poems, serialized stories, to name a few.
We are very proud to have him as our Chief Guest for this very important exhibition, Endangered Folk Arts Of India.
DakshinaChitra is an exciting cross cultural living museum of art, architecture, lifestyles, crafts and performing arts of South India. The main mission is to exhibit, promote and preserve aspects of the broader, more inclusive cultures of the states and to bring these arts to the public in a participative, enjoyable and engaging way.
DakshinaChitra Heritage Museum , a project of Madras Craft Foundation an NGO was opened to the public on December 14th 1996. The Museum is located overlooking the Bay of Bengal, at Muttukadu, twenty five kilometers south of Central Chennai, on the East Coast Road to Mamallapuram, Tamil Nadu, India. Read more ..
DakshinaChitra has a collection of 18 authentic historical houses with contextual exhibitions in each house. All the houses bought and reconstructed at DakshinaChitra had been given for demolition by their owners.
The authentic homes in a regional vernacular style are purchased, taken down, transported and reconstructed by artisans ( Stapathis) of the regions from where the houses came