Tanjore Painting Online USA - How to buy and learn?
Tanjore Painting Online USA – How To Buy And Learn Them?
The United States is the world's largest economy and has a gigantic gross domestic product (GDP). It is one of the world's wealthiest nations, with a high standard of living and high average income. It has an extensive social-security system that provides employment income, medical care, and retirement benefits to citizens who meet certain eligibility requirements.
The United States of America is among the leading countries in the world when it comes to online shopping. The country has its own e-commerce giants like Amazon and eBay, but also offers a myriad of other options for shoppers.
Indian art, especially Tanjore painting or also called as Thanjavur painting has been an important aspect of Indian culture for centuries. It wasn't until 2000 that the Tanjore painting in USA became popular, especially with so many Indians immigrating there.
Tanjore paintings started to be exported from India into Western countries during this time, and they were seen as more sophisticated than other forms of art because they bring that original authentic rich and royal interior décor design feeling for your home. The art form continues to be immensely popular in the US today.
Also, another reason Tanjore painting in USA are becoming available online is due to accessibility. Many of the new generation of Tanjore painting artists have been able to take their work online with the help of free online fully integrated e-commerce platforms. Such as, International Indian Folk Art Gallery, who promote and sell all Indian Folk Art globally.
In this article, I've included information on
how to buy genuine Tanjore Painting in USA (or from anywhere) and I've included links to some of the Tanjore painting artists and their gallery.
how to learn Tanjore Painting online USA (or from anywhere). I've provided information to my two programs for Tanjore painting online classes.
Senthil Vel
Founder, International Indian Folk Art Gallery, Australia
Introduction: Tanjore Painting
Tanjore paintings are a classical, South Indian art developed in the late 16th century in Thanjavur, also known as Tanjore in the Tamil Nadu state of India. These Tanjore paintings evoke a sense of timelessness with their alluring illustrations of God, Goddess and stories of Hindu mythology.
The Maratha people of India, who had been practicing painting for centuries, found new ways to depict the human body and naturalistic landscapes under the guidance of King Serfoji II. King played a particularly significant role in developing this artform.
It has taken on its own look, enriched with intricate architectural designs and bright colors after being influenced by the murals from imperial era. The unique style of Thanjavur or Tanjore painting as known today, is known to have flourished in the Maratha court of Thanjavur between the 17th and 19th centuries.
"These Tanjore Paintings offer a taste of the serenity and permanence associated with Puranic scenes." These beautiful paintings offer a look into the scene as depicted in the Puranas, which provides some insight as to what might happen in those stories.. With their lifelike illustrations, this collection is characterised by its alluring design.
Traditional Tanjore Painting -How It's Made Step by Step
The process of creating a Tanjore painting takes eight steps:
Step 1 – Thanjavur paintings are done on wooden canvases. The canvas for a Thanjavur painting is usually made out of a plank of wood (jackfruit or teak) which is pasted with cotton cloth using tamarind paste.
The face of a wooden canvas is evenly coated with a paste of lime and tamarind paste, which is allowed to dry. It is then polished and prepared for sketching. The process of preparing a canvas board can take up to a week.
Step 2 – Once the board is ready, the figures, mandapam, and all elements are sketched. Common themes are Krishna, Lakshmi, Ganesha, Venkatachalapahy (Balaji), and Radha Krishna. Of course, Tanjore paintings are made with other Hindu, Non-Hindu gods and generic themes.
Step 3 – After the sketching is completed, stones are fixed using limestone arabic gondu mix. The board is allowed to dry for a couple of days, then the stones are packed with a mixture of limestone arabic gondu mix. This is followed by drying, correcting, and cleaning.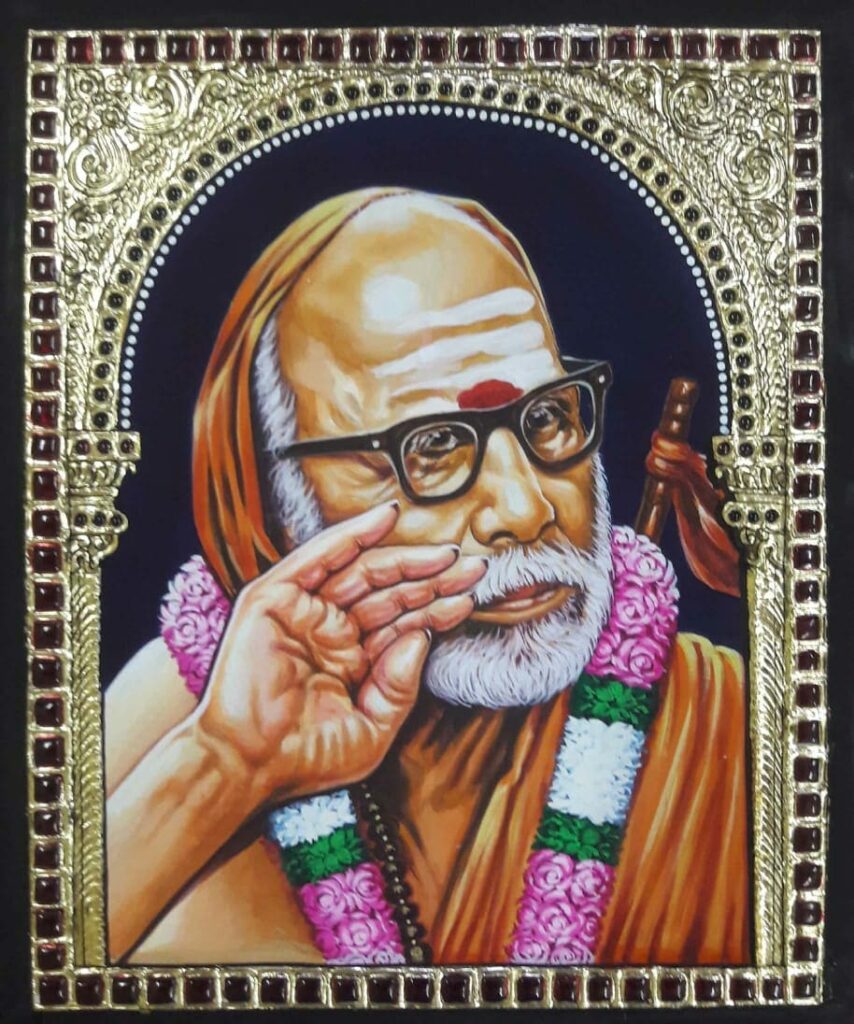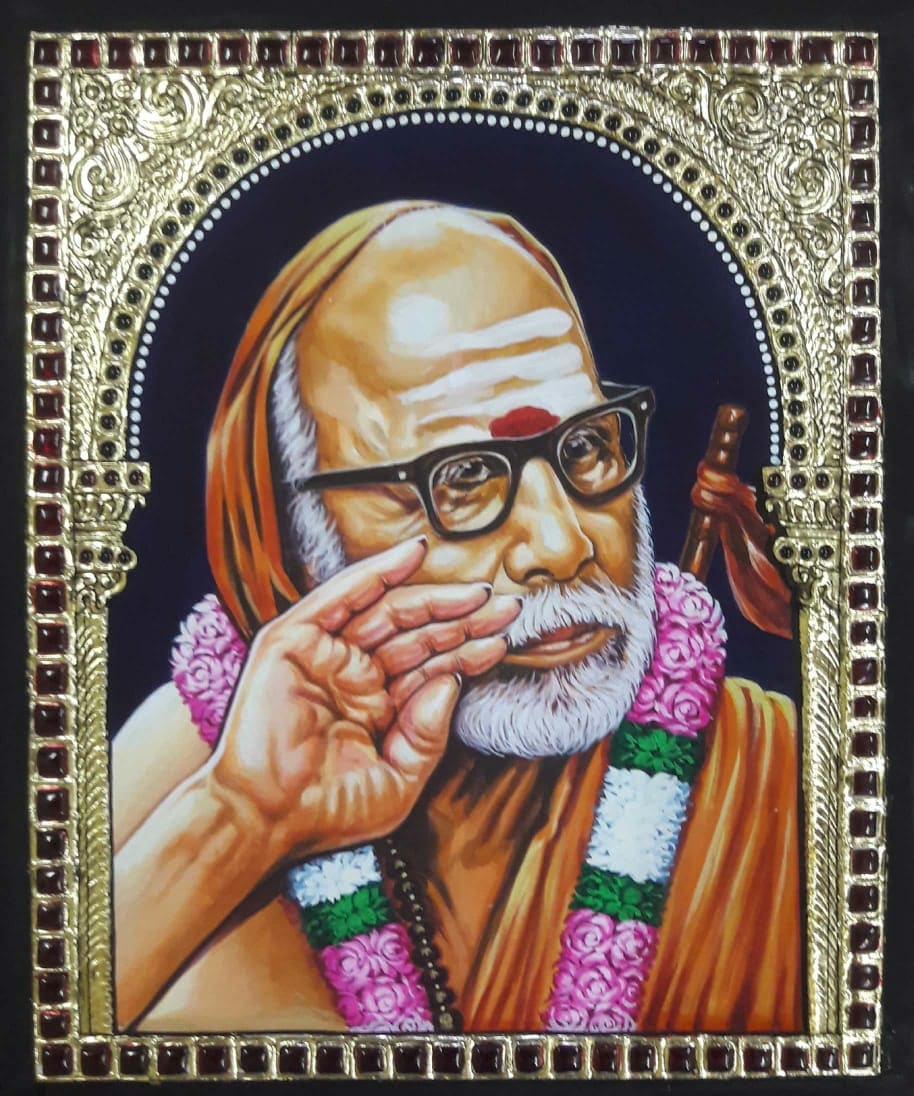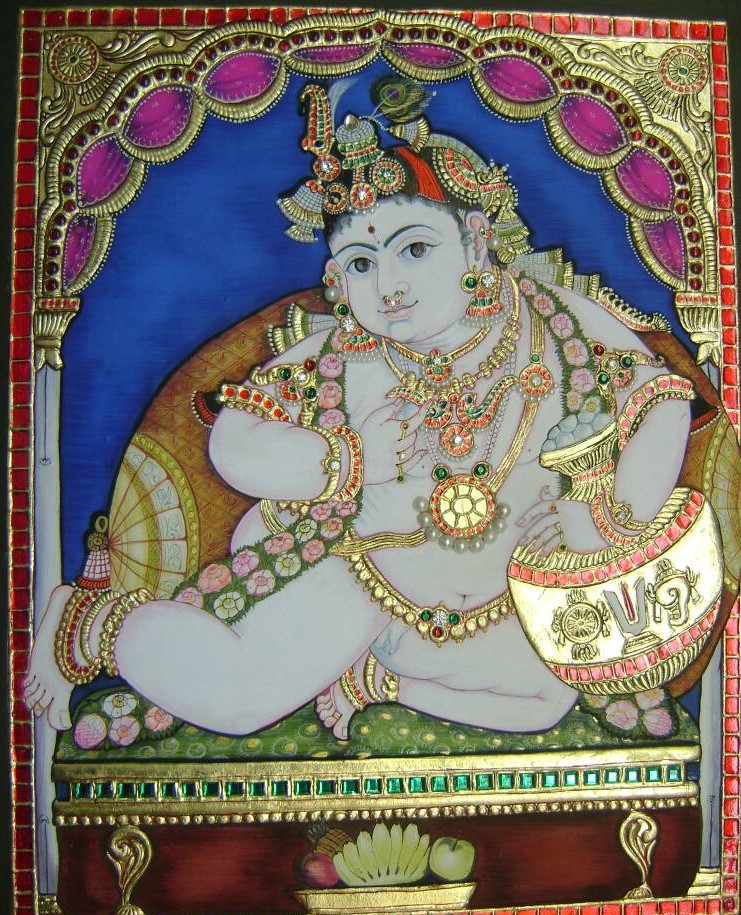 Step 4 – The next step is intricate clay relief work. This process requires a lot of experience to perfect the art of creating extremely complicated patterns and designs for jewelry, dresses, mandapams. Tanjore paintings made of clay relief work are extremely hard wearing, and last for generations.
Step 5 – In the next step further detailing is provided to jewellery, dressed and patterns using chalk gondu mix.
Step 6 – The relief work is allowed to dry for couple of days, the 22K Gold leaves are pasted using arabic gum. The gold foil is cut to expose stone work. The process ends with correction and cleaning the board.
Step 7 – The next step is colouring the figure, including background
Step 8 – Final step is linework and shading. This is followed by fixing frame with glass.
The whole process can take 3 to 4 weeks for standard size painting and can take few months for large size paintings.
The skills needed to create a stunning Tanjore painting are passed on from one generation to the next. These are often tightly held secrets. Even within the family, the roles are distributed based on different stages of Tanjore painting. Only a master craftsman would do the coloring, especially on faces to bring life to the Tanjore painting.
Traditional Tanjore Painting – Why are they Popular Nowadays?
Tanjore paintings are popular nowadays because they provide a unique style that is different than other art forms. They also provide a meditative space for people to sit back and enjoy the beauty of the artwork.
Since Tanjore painting is a traditional art form, it has been there for many centuries. But in the past few years, it has been increasingly popular and has been gaining more attention from people who are interested in this unique art.
Tanjore painting is a unique art form because of the intricate detail that is involved in the paintings.  A technique where gold leaves & sparkling stones are used to highlight certain aspects of the painting like ornaments, dresses etc. The painting is bright and colourful and breathtakingly beautiful.
The artists hand paint each design with care and time to produce a beautiful piece that can be framed and put up on a wall. No two paintings are exactly the same.
The designs in the paintings are usually inspired by Hinduism and portray religious stories such as Lord Krishna or Goddess Lakshmi. The temples would use these paintings to decorate their walls or pillars, or use them as offerings for worshippers to take home.
Tanjore painting has become famous because of its rich heritage and detailed work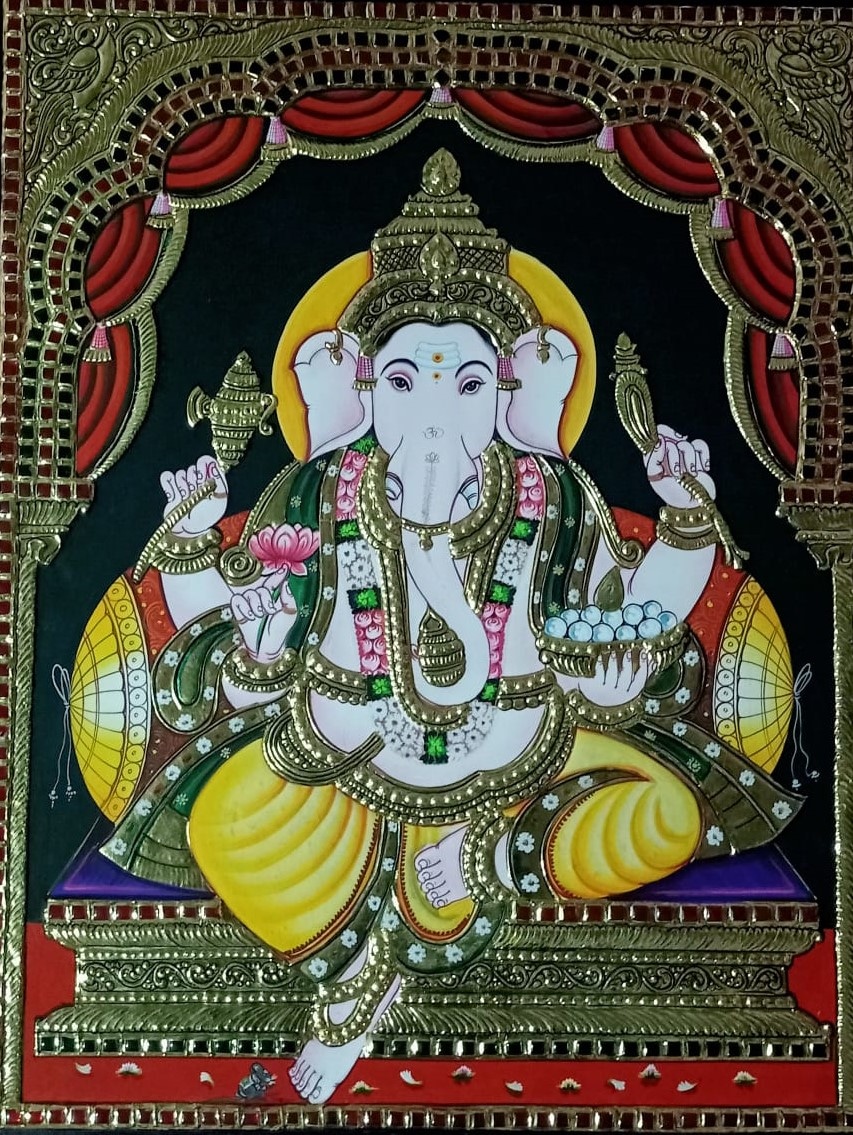 Old Tanjore Paintings As a Long Term Investment
Traditional Tanjore Paintings have been a great source of inspiration for centuries. These paintings are an important part of Hindu temple architecture and culture. Tanjore paintings are an important part of Hindu worship and play a crucial role in most South Indian culture.
Traditional Tanjore paintings can be found in temples or places of worship, like puja room in many home.
Tanjore paintings are famous for their intricate details and colors, which were traditionally created using natural colors, 22K gold leaves, precious and semi-precious stones.
Each painting is treated as an artwork with its own story or message to tell. The finishing of these paintings also has a very high level of detail to make them beautiful, durable, and long lasting for generations to come.
If you can afford it, Traditional Tanjore paintings are an important asset in every household. They bring that original authentic rich and royal interior décor design feeling to your home, perfect for any living room. Absolutely loved by Indians, they are also in great demand in US, UK, Canada, Germany and France.
In some Hindu traditions, it's customary for daughters or granddaughters to receive Tanjore paintings as gifts for weddings or when the couple moves into a new home to set up their puja room, a place for worship.
Since there is shortage of skilled traditional artists, there is always demand for Traditional Tanjore paintings, owning one can be considered as an investment because the price of these paintings is likely to go up with time.
Traditional Tanjore Paintings are made to last for centuries and they get passed from one generation to next. Investing in the right Tanjore paintings is a good idea for the long-term. They can be considered as an investment because they are worth more than the price of the painting after some time.
Traditional Traditional Tanjore paintings are also often bought by collectors, decorators and people who would like to add some traditional art in their homes.
What should you consider when buying traditional Tanjore paintings online in USA?
The tradition of Tanjore paintings is one of the most popular Indian art forms. Due to the ubiquitous reach of the internet, nowadays it has become infinitely easier to buy Tanjore painting online.
When you go online to buy a traditional Tanjore painting, keep in mind that not all websites are created equal. You want your Tanjore painting to be authentic, so it's important that you find the right website.
There are many websites that claim they have the best Tanjore paintings for sale, but not all of them are authentic. So what steps should you take before you buy?
Find an online store with a large selection of different styles and approaches to traditional Tanjore paintings.

Ensure the online store has a way to communicate with the seller or artist

Ensure that they have customer reviews and testimonials available on google or on their website.(continued…)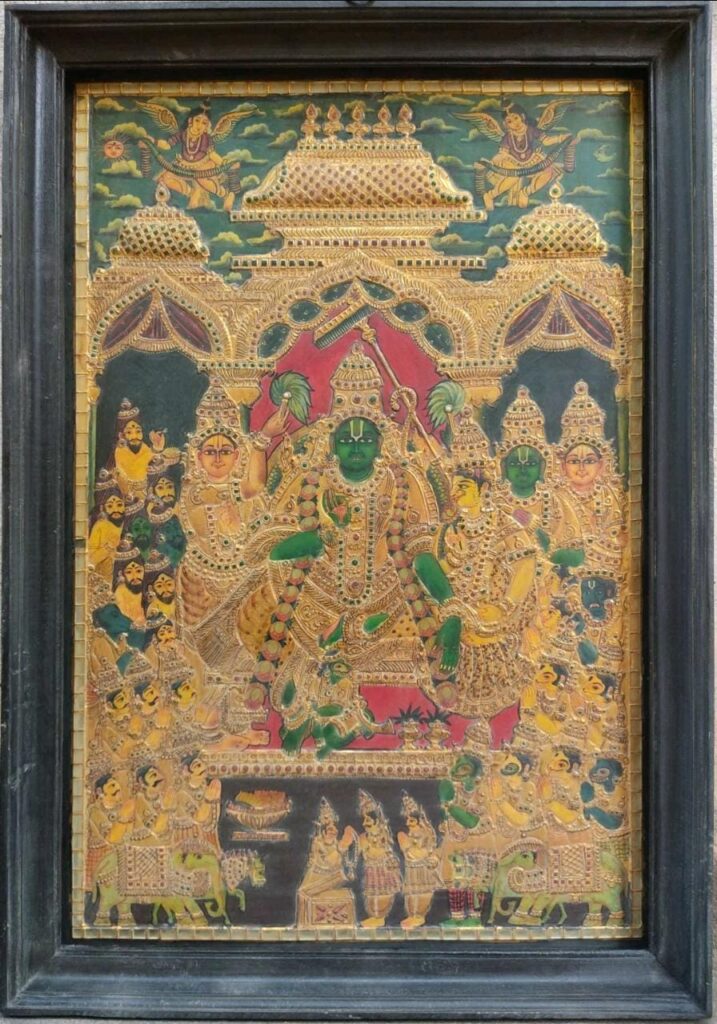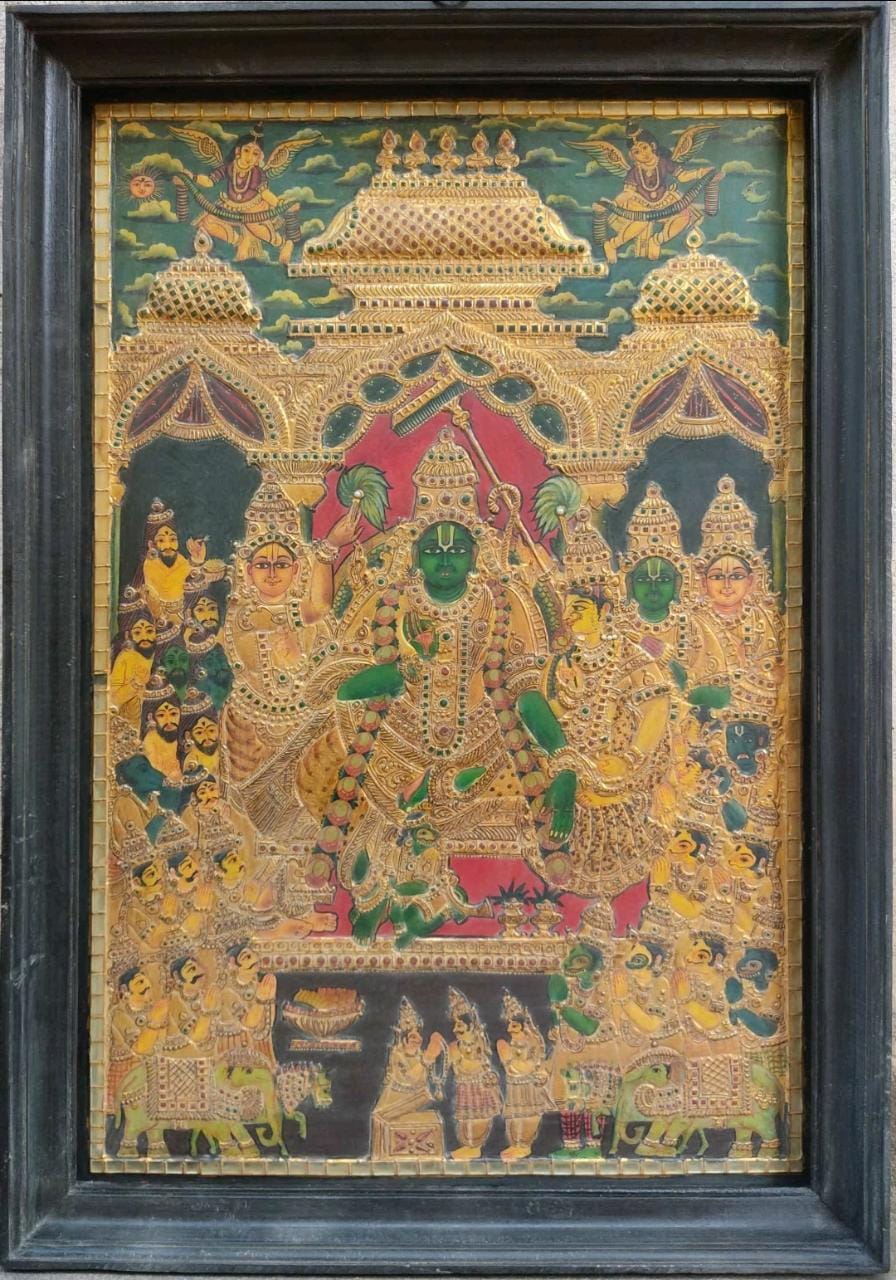 Make sure to read through the terms and conditions of any potential purchase before making a decision

If you exporting outside of India, does the company have export license and is legally registered to do so

Another consideration when shipping Tanjore painting online USA, unlike other artworks, Tanjore paintings cannot be rolled up and sent. The cost of the shipping could be significant.

Finally, reliable payment gateway that supports secure transactions
In conclusion, we can say that Tanjore paintings are the product of many centuries of rich culture and tradition. They bring absolute joy and hope to many homes. If you are planning to invest in one, trust that this article provides you with insights and some basic information that will help you make the right decision.
Share your experience in the comments below or write to me if you need any assistance in choosing the next Tanjore painting.
Discover Indian Folk Art – Support Indian Artists
What You Should Know When Buying Traditional Tanjore Painting Online?
There are plenty of websites that sell Tanjore paintings online, but buying a good quality Tanjore painting is not an easy task.
How do you know if you're getting value for money? There are many things that you need to consider before you invest.
A lot of people don't know what to look for when they're buying Tanjore paintings online USA. They assume that all these paintings are the same, but there is a big difference between a finely crafted Tanjore painting and a low quality copy.
This article will explain the difference between the two in more detail so you can make an informed decision.
Senthil Vel R.S
Tanjore Painting Artist & Founder of International Indian Folk Art Gallery
Learning Tanjore painting online USA, from the comfort of their home.
With Gurukulam, we provide state of the art E-learning platform for all Indian folk arts, including learning how to paint Tanjore paintings online. In our Tanjore painting online course will teach the old way of making Tanjore paintings.
Learning Tanjore painting Online USA is not right for everyone. There are a few considerations that you should make before jumping into such a course. Students will be required to set aside 6-10 hours per week, during the course of the program.
We offer 5 week and 14 week program. Tanjore painting classes typically take between two and four months, depending on your skill level and commitment. The cost will vary depending on what program you take. The Tanjore Painting online course includes the costs of Tanjore painting materials.
I've included detailed program methodology for our Tanjore painting online classes, and how it will help you to learn the old way of Tanjore painting, the right way!