"Endangered Folk Arts of India" – Art Event at Space2B St Kilda Melbourne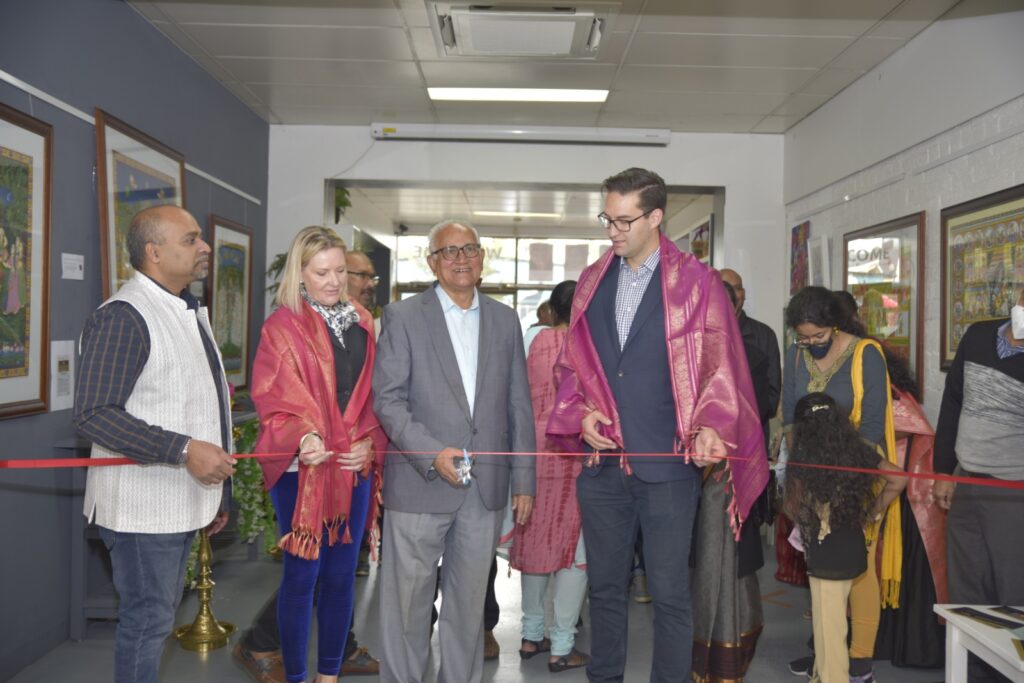 Indian Art Exhibition, Melbourne Space2B 2022
Opening Ceremony: Indian Folk Art Exhibition, May 7th Saturday 2022
Exhibition Location: Space2B | 144 Chapel St, St Kilda, VIC 3182
International Indian Folk Art Gallery (IIFAG) is an Australian organisation with deep Indian roots. The initiative is conceived with the singular goal to highlight the beauty of endangered Indian Folk Arts while building a cross-cultural connection with Australian art lovers. One of the pathways to reach this goal is to have an exhibition and sale to showcase the artworks.
Thus, Indian Art Exhibition, Melbourne Space2B 2022, exhibition and sale is organized at Space2b another Melbourne based organization pioneering in promoting indigenous arts and artwork of refugees/ newly arrived migrants. The event started on the 3rd of May and will run until 30th of May 2022.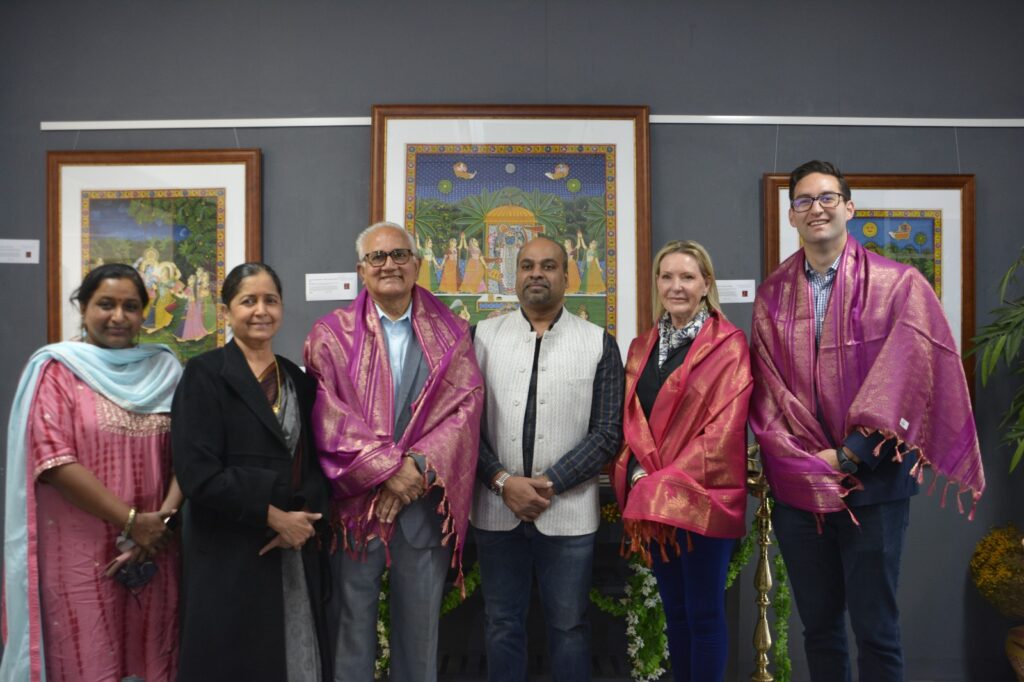 On the 7th of May at 11:00 am the opening ceremony was conducted in a grand manner.
The chief Guest for this occasion was
Mr C. S. Srinivasan (Srini)
Board Member, Multicultural Arts Victoria former Commissioner,
Victorian Multicultural Commission. Australia
Guest of Honour
Mr. Josh Burns, Federal MP for Macnamara
Mrs. Colleen Harkin, Liberal candidate for Macnamara.
Mr. Anil Kumar Kolanukonda, Founder-Sai Sandhan
Mr. Neeraj Nanda, Editor South Asia times
Mrs. Anita Barar, SBS News Hindi
Ms. Janine Lawrie, CEO, Space2b
The ceremony included the following events
· Speech
· Lighting of the Lamp
· Felicitations of the guest
· Guided tour of the exhibition
Speech:
Purnima Padmanabhan (Purni) conducted the event meticulously. Purni started the ceremony with the acknowledgment of the country. Purni thanked the Yalukit William one of the six clans of the Boon Wurrung First Nation. This is the land in which the exhibition space2b is situated. Purni, then gave a small introduction about IIFAG, introduced the speakers and chief guests to the audience.
The first speaker was Janine Lawrie CEO and founder of Space2b. Janine spoke about her organization, Space2b. In 2013, Space2b was launched as place to collaborate with newly arrived migrants. In 2015 Space2b hosted first pop-up exhibition and from then on there was no looking back. Due to demand this organization has a dedicated art gallery for indigenous artist across the globe. The diverse work done by space2b were highlighted by Janine. On that Janine was also wearing exclusive jewellery made by artisans' at space2b.
Next speaker Senthil Vel, Founder of International Indian Folk Art Gallery (IIFAG) spoke about his organisation. Indian Folk Art forms are ancient and versatile. There are more than fifty traditional folk arts indigenous and unique to India, each style distinct and originating from various states and territories across India. These traditional arts are over 3000 years old, and their survival has been solely dependent on artisans and their small communities passing knowledge down from one generation to the next. Today, some of these Indian Folk Arts are sadly on the verge of extinction due to.
● Industrial & economic pressure leading artisans to prioritize alternative careers
● Diminishing numbers of artisans still practicing and propagating the art form
● Art form being contained within India with no international exposure
By organizing this exhibition IIFAG is aiming to give this endangered folk art form an international exposure. This speech was well received by the audience.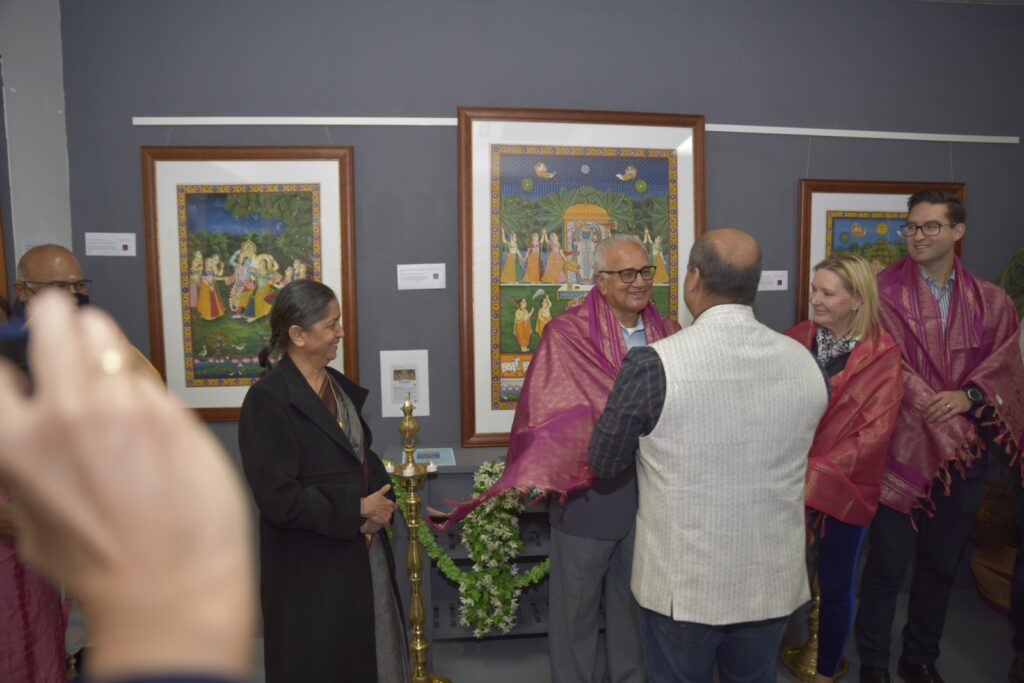 Lighting of the lamp: It is one of the traditional ways to begin any event in India. Lighting a lamp signifies prosperity and good luck. Due to safety concerns IIFAG team members gave the Chief guests a battery-operated tea candle. The first lamp was lit by Mr Josh Burns, Federal MP for Macnamarra, followed by Ms Colleen Harkin, Candidate for Macnamarra. Ms Janine Lawrie, CEO of Space2b; Mr Neeraj Nanda, Editor South Asia Times; Ms Anita
Brar, SBS Hindi channel; Mr Srinivasan Chidambaram, Board member Multicultural Victoria and Mr Anil Kolanukonda. Founder of Sai Sandhan temple.
After the lighting of the lamp the chief guests were felicitated with Silk shawl.
Felicitation of guests: Another traditional Indian welcome is to adorn the chief guest with "Ponadai" or silk shawl. This signifies gratitude and respect. Members of the IIFAG team were called for this felicitation. The team members include Paddy, Chandramohan, Anand, Mohana, Rajagopalan, Sujatha and Subha.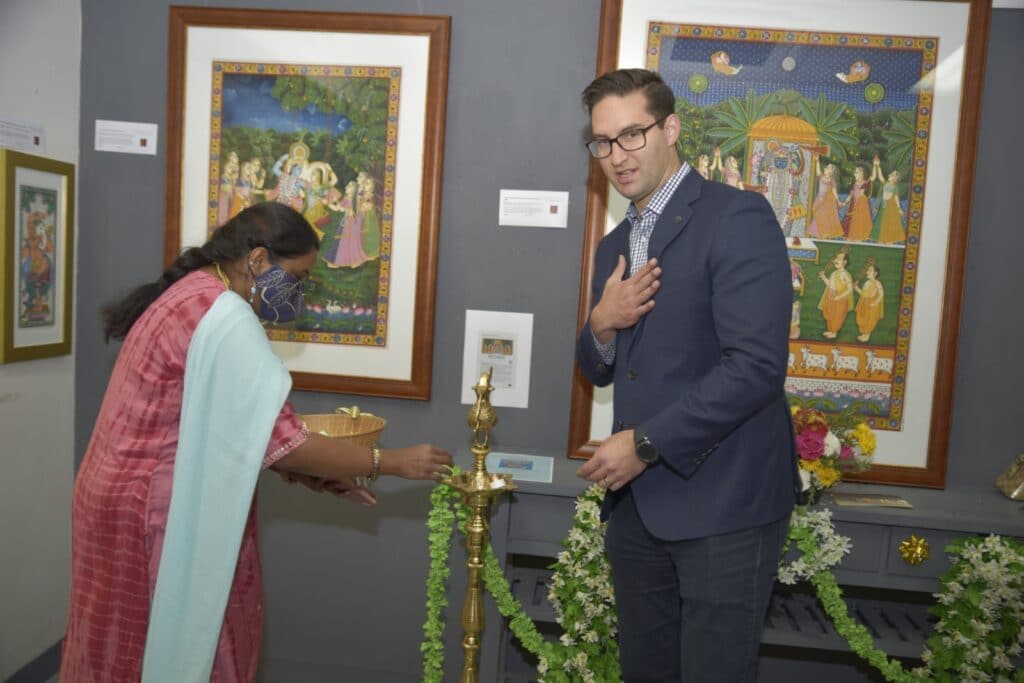 Guided tour of the art works: Senthil Vel took the visitors and guest and explained about individual artworks displayed in the exhibition. The intricacies, its history, and the medium in which it was done and so on were described. The guests were mesmerized by each artwork. Many asked questions about the story behind and took a lot of pictures.
The event concluded successfully with a sale of a Gond painting purchased by one of the visitors. There were also 2 booking for Mandala painting.
The exhibition is open to public:
Tuesday-Friday 10:00am – 5 Pm
Saturday-10:00am -2pm