Pichwai Painting
Pichwai paintings also known as "Pichvai" is a traditional Indian Indian folk art having its origins in Rajasthan, India. It consists of a series of painting on cloth using natural colors and vegetable dyes. The paintings are done with a natural brush made from animal hair or cotton threads.
Pichwai (pichvai) is a style of Indian folk art that originated over 400 years ago in the town of Nathdwara near Udaipur, Rajasthan, India. Intricate & visually stunning, pichwai paintings are made on cloth and typically depict tales from Lord Krishna's life.
Shrinathji Pichwai paintings are paintings of Lord Shrinath which are usually carried out on fabric in dark, rich colours. These Indian folk arts  have an ancient religious significance and are done by hand with great devotion by the artist.
Most texts under this style revolve around Shrinathji, who is seen as a manifestation of Krishna, and the text will mention how he held the Govardhan hill on his last finger. Pichvai paintings mostly depict scenes from Shrinathji' s life and various scenes of his celebrations.
The Pichwai paintings are a tradition that is practiced by the Hindu Brahmins of India. This religious tradition is believed to have roots in the Vedic period and is executed with utmost devotion by the artists. The paintings can be seen as a map to the universe and are used as a way to see how all of these pieces fit together.
Subjects of Pichwai paintings are mostly depiction of Lord Krishna's various moods or various sevas (offering) of Shrinathji.
Careful detailing is required to paint a Pichwai. Lord Krishna is sometimes depicted as Shrinathji in these types of paintings, which are of the deity manifesting as a seven-year old child.
Other common subjects are Cow Pichwai Painting, Lotus Pichwai Painting, Radha Krishna, gopis, cows, and lotuses. Festivals and celebrations such as Sharad Purnima, Raas Leela, Annakoot, Govardhan Puja, Janmashtami, Gopashtami, Nand Mahotsav, Diwali, and Holi are beautifully presented for centuries.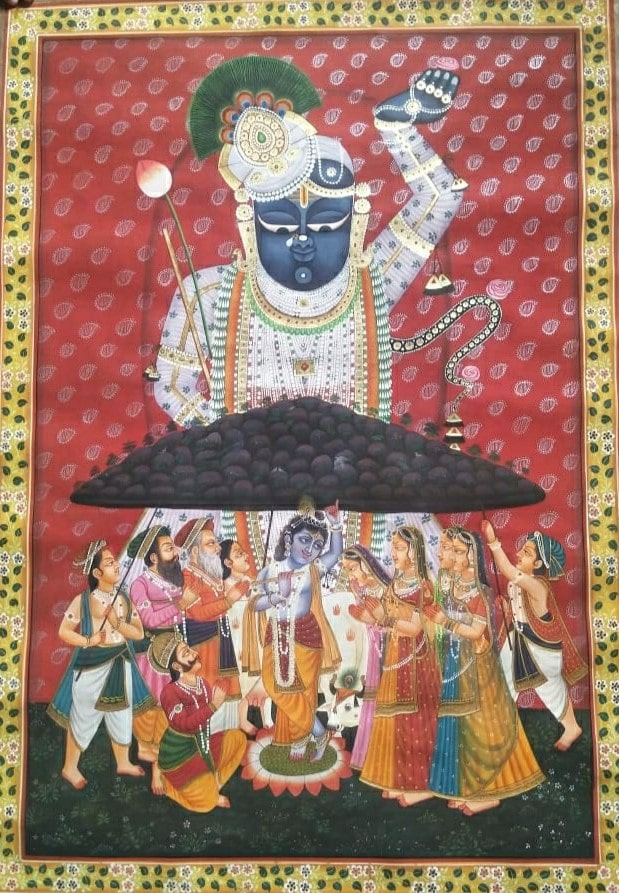 Pichwai Painting Galleries