Kerala Mural Painting
Kerala Mural Paintings are one of the most well known and distinctive forms of art from Kerala, India. The Kerala mural paintings are a form of temple art that have been practiced in Kerala for over 2000 years and has been preserved through generations by local artists. Although they have been influenced by western techniques, they have retained their Indian roots.
They have a close connection to the daily life of the people, and express the religious and cultural traditions of Kerala. The art form can be seen in religious & cultural traditions of Kerala, and depicts scenes from the traditional Puranas as well as daily life of local people.
They can also demonstrate an individual's inner conviction, confidence in their beliefs, traditions & customs. Kerala's own style of murals has been seen in the Thirunadhikkara Cave Temple and Tiruvanchikulam. These murals have been dated to around 400 A.D.
A mural is a large painting on a wall that often depicts a story. The word is the Latin word for the word 'wall', which correlates with them being painted on either side of a wall. It is painstakingly prepared prior to being painted.
Traditional murals are painted with five colors, which are red, yellow, green, black and white. These all traditionally come from natural substances that the painter has on hand. Red, yellow and white paints were traditionally made from two sources: red laterite and white lime. Black paints were the result of oil-lamp soot deposits.
Three of the most popular mural pieces in Kerala are: the Shiva Temple of Ettumanoor, Ramayana murals from Mattancherry Palace and Vadakkumnatha Khatam.
Mural artisans in Kerala were heavily patronized by various rulers, but they thrived more during times of Indian rule. However, under British colonialism this art form suffered considerably. Many Kerala Mural Images have been painted on the walls of temples and, now these Kerala Mural Images can be found on canvases.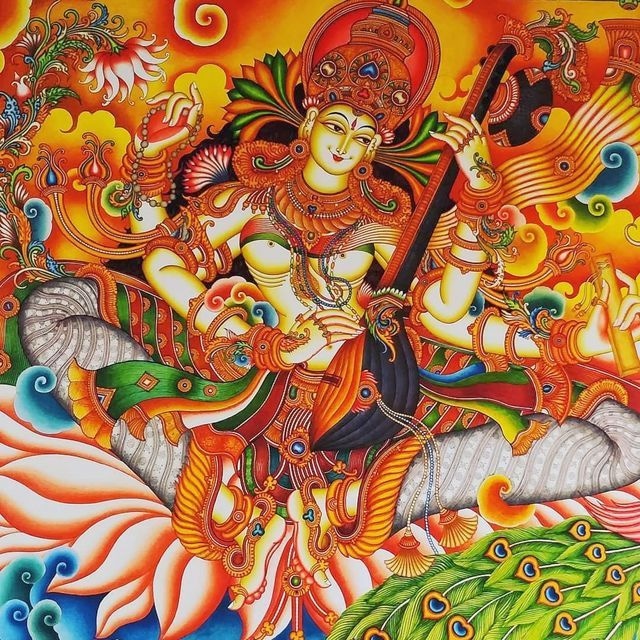 After India gained independence in 1947, murals had less stigma. Since then, they have been on the rise in temples in Kerala. The Centre for Study of Mural Paintings is a school established in the Thrissur district of Kerala by the Guruvayur Dewaswom Board under the chief instruction of Mammiform Krishnan Kutty Nair. Representing revival of this art form.
Kerala Mural Painting Galleries