A Journey Towards Self-Discovery - Hari Priya
Mandala Art Therapy: How It Healed My Life For The Better
My name is Hari Priya Narasimhan. I am from Hyderabad, India and I am a self-taught Mandala artist. I will take you through my journey towards self-discovery and explain how Mandala art helped me to overcome a challenging Mental Health situation.
Art has given me a sense of purpose whenever I felt lost or confused. In particular there was a time in my life when my health was going in downward spiral luckily through Mandala art I managed to rise from the whirlpool.
The creative process has been something that I have enjoyed through life. From Carnatic music to Kolam's anything that has a creative component I enjoy doing.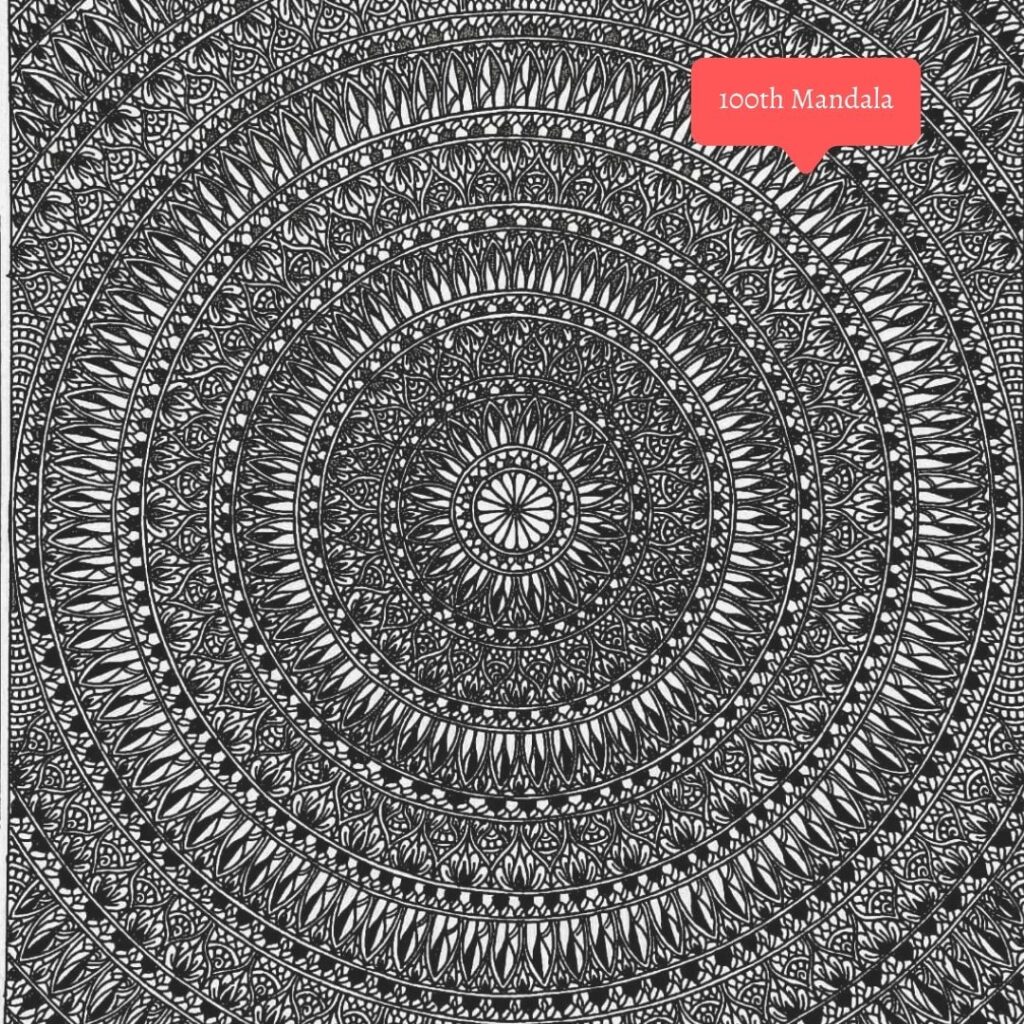 Mandala Art Therapy – The Beginning
I started my career as a saree designer. It was a successful profession, and my saree designs were well liked and appreciated by the customers.
However, I felt there was certain aspects of this work very restrained and limiting my creative ability. Hence over a period this work became mundane. At this time, we relocated to another city.
My life was focused on upbringing of my daughter who was a toddler. Children, family, extended family commitments were keeping me busy. The artist in me took a back seat, until my husband and I met with an accident and were bedridden for few months. That "never give up" attitude in me kicked in and I had to push myself beyond my physical and mental boundaries to care for my husband.
This took a toll on my wellbeing, as a result I started to be sulky and moody. My thyroid levels were high and consequently there were many Mental Health related issues affecting me. This is when my daughter encouraged me to start my artistic journey again and introduced me to mandala art. Rest as they say is history, Mandala art immersed me in its magnificence and changed my life for the better.
Types of Mandalas
Let me take you through this process, first I will explain about different types of mandalas, then go in detail about the mandalas that I work on. The improvisations I have done, the fusion works, and its limitations will be touched on.
There are three types of Mandalas:
Healing Mandala,
Sand Mandala and
Teaching Mandala
1. Healing Mandala
Mandala is a Sanskrit word meaning "circle." The circle philosophically means that life is like a cycle without beginning or end. Essentially, with this notion when person is creating circular images it gives hope that the difficult times will pass and so stop worrying about it too much.
This in my opinion is the mantra for healing. In Hinduism, mandalas are considered sacred symbols and believed to be a way to connect oneself with the divine. A mandala is typically a two-dimensional geometric design, adorned in the temples front of the house and in prayer rooms.
The mandalas strokes are always done as upwards movement and goes clockwise. Meaning that times moves in one direction and over time many wounds heal –"this too shall pass".
2. Sand Mandala
Mainly used in Buddhism, sand mandalas are seen as symbols of the natural world. They can be seen as symbolic representations of the universe and its laws.
The mandala is used for meditation and reflection to help a person understand the nature of reality, one's place in it. In the Tibetan Buddhist ritual Sand Mandalas that can take up to 10 hours to complete. This teaches patience to the monks .
Once the ceremonies are completed the mandalas are destroyed by pouring water on it and sweeping away the sand. This ritual has been practiced for centuries, and it symbolizes the impermanence of life. No matter how hard you have strived to create it once its purpose is over it has to go.
3. Teaching Mandala
Teaching mandalas are figurative and conveys an underlying message. There are some basic shapes, lines and colour that represent different aspect of human nature or system. Artist makes their own mandala using their imagination.
Then explains the underlying message to the viewer with a short explanation about the mandala. The reason for using the shapes the numbers or the colour are described. These are the three mandalas' varieties. The Mandalas I create are Healing and Teaching variety.
Mandala Art Therapy: Healing Mandala
As mentioned, I was struggling with life challenges and health issue. The artist in me helped me to navigate the challenges. Initially I created basic two-dimensional mandala using black gel pen drawn on paper adding circles of various sizes and some basic shapes. Shapes used are petals, triangles, and semi-circle.
The petals signify good vibes and fortune, triangles indicate sharp pointing upward growth, Semi-circle indicates interconnection. The shapes are drawn in such a way that they touch each other but do not overlap each other. The design that is created inside represents how everything is interrelated with everything else.
When creating these mandalas, I was so immersed in the intricacies that slowly my mind was decluttering itself. Thus, my inner peace was gradually restored, and my emotional healing was happening without my knowledge. My family noticed the changes in my behavior and overall elevated mood and started to encourage me.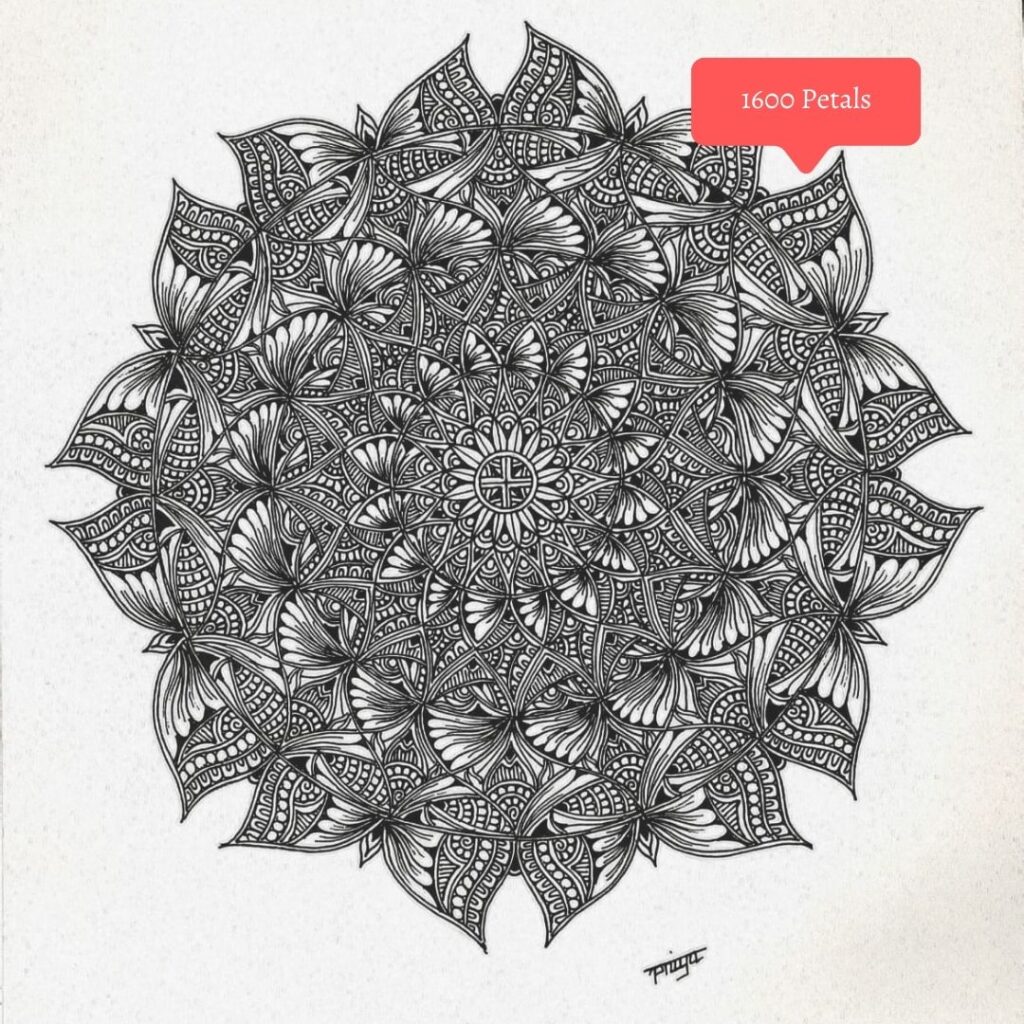 Mandala Art Therapy:  Teaching Mandala
Once I was getting used to the simple structures I started to improvise and create mandalas incorporating numerology. Thanks to my father I learnt a bit about numerology accordingly the following numbers signifies
1 New beginning, creativity positivity and dedication to reach the goal
3 Confidence and self-reliance
5 Spiritual growth and self confidence
6 happiness, blessings invite fortune and good health
7 Quest for knowledge and victory
8 Self-confidence inner wisdom and extremely professional and very successful in business
9 A divine number has all good qualities of the above numbers.
2 & 4 is generally avoided.
3D illusions
The next improvisation I did with my Mandalas were 3D illusions patterns. This is done by adjusting the intensity of the black colours of the shapes. My famous creation is with semi circles and petals.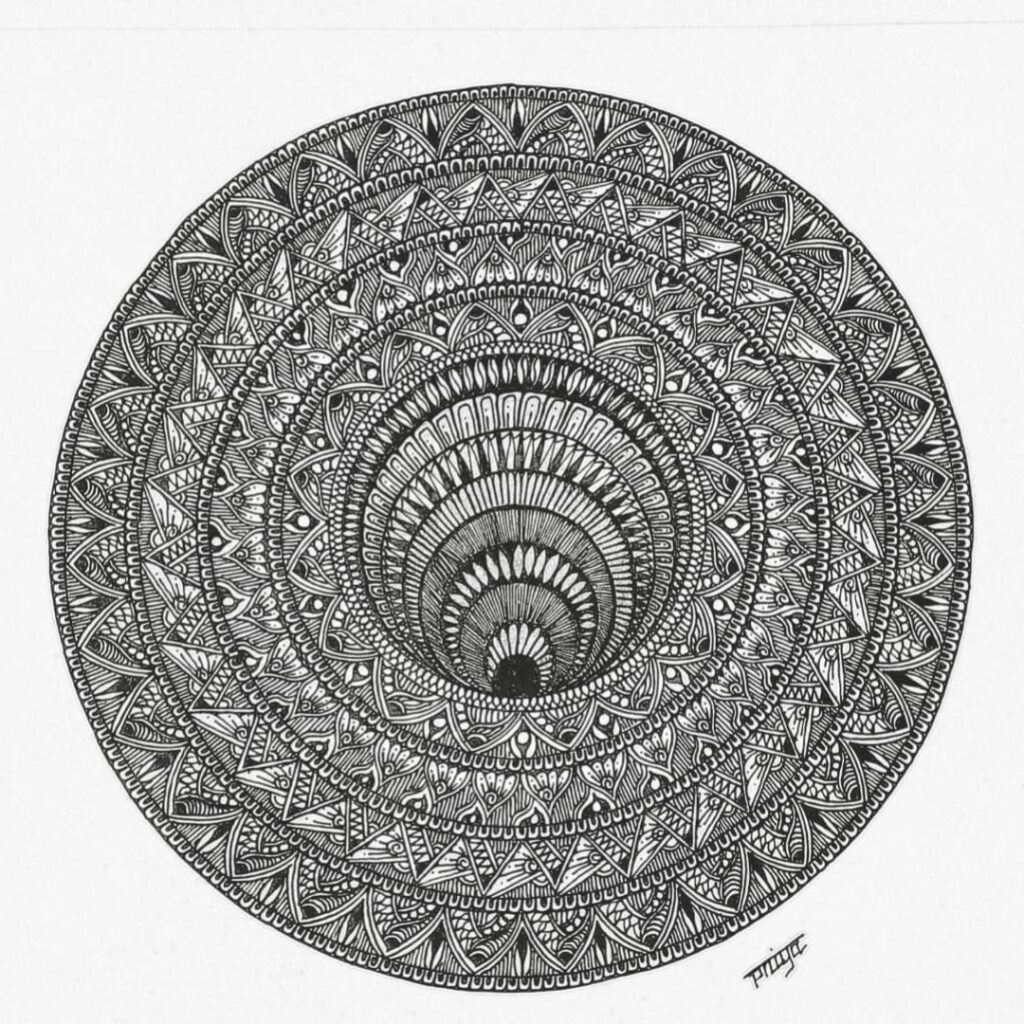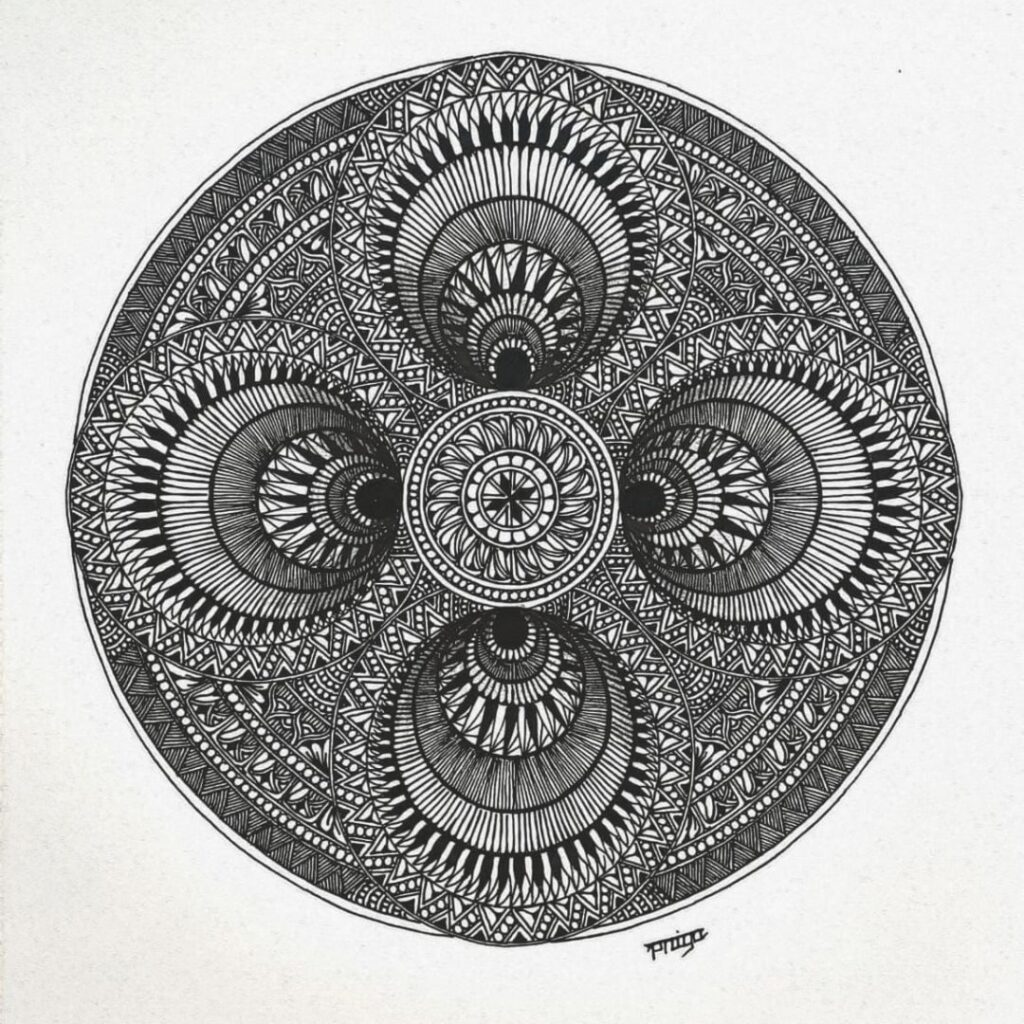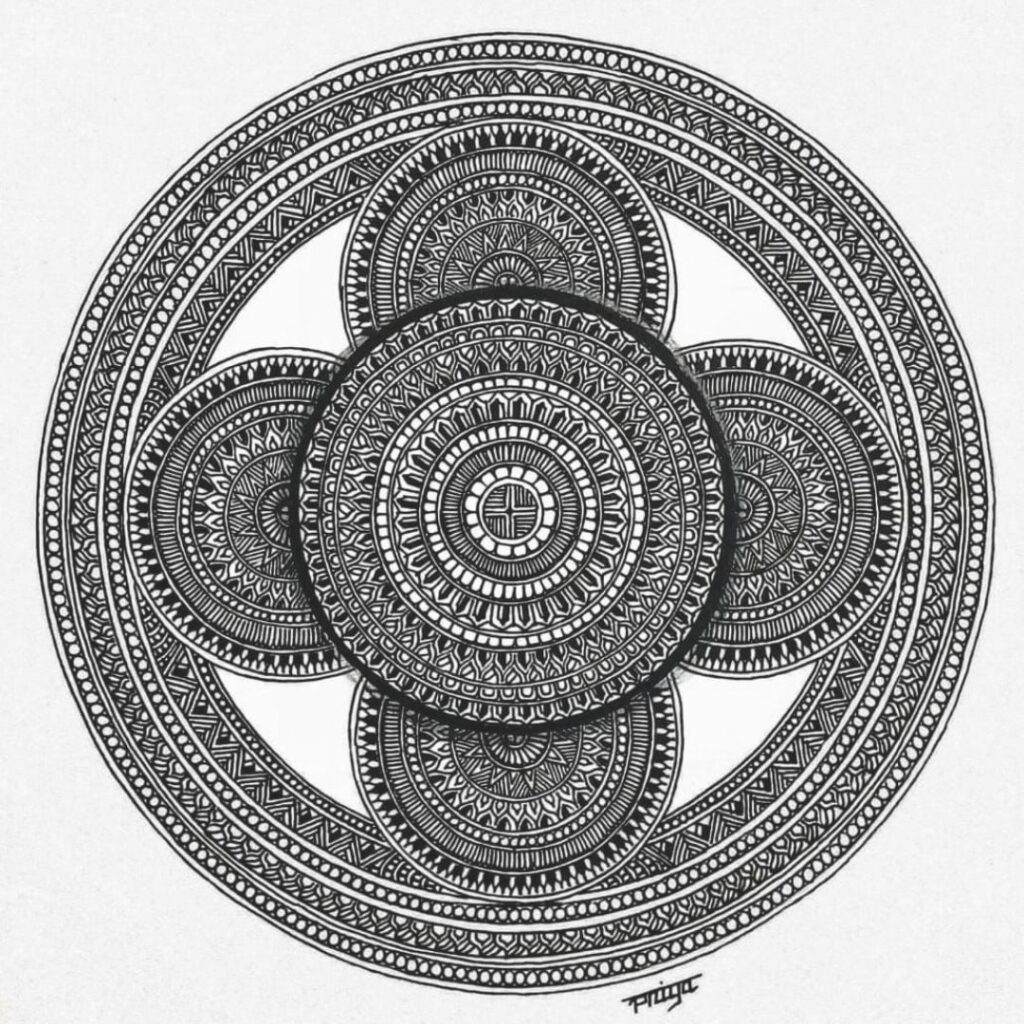 Patterns like flute and dream catchers are my best sellers. I have created more than 16 different mandalas in the flute theme.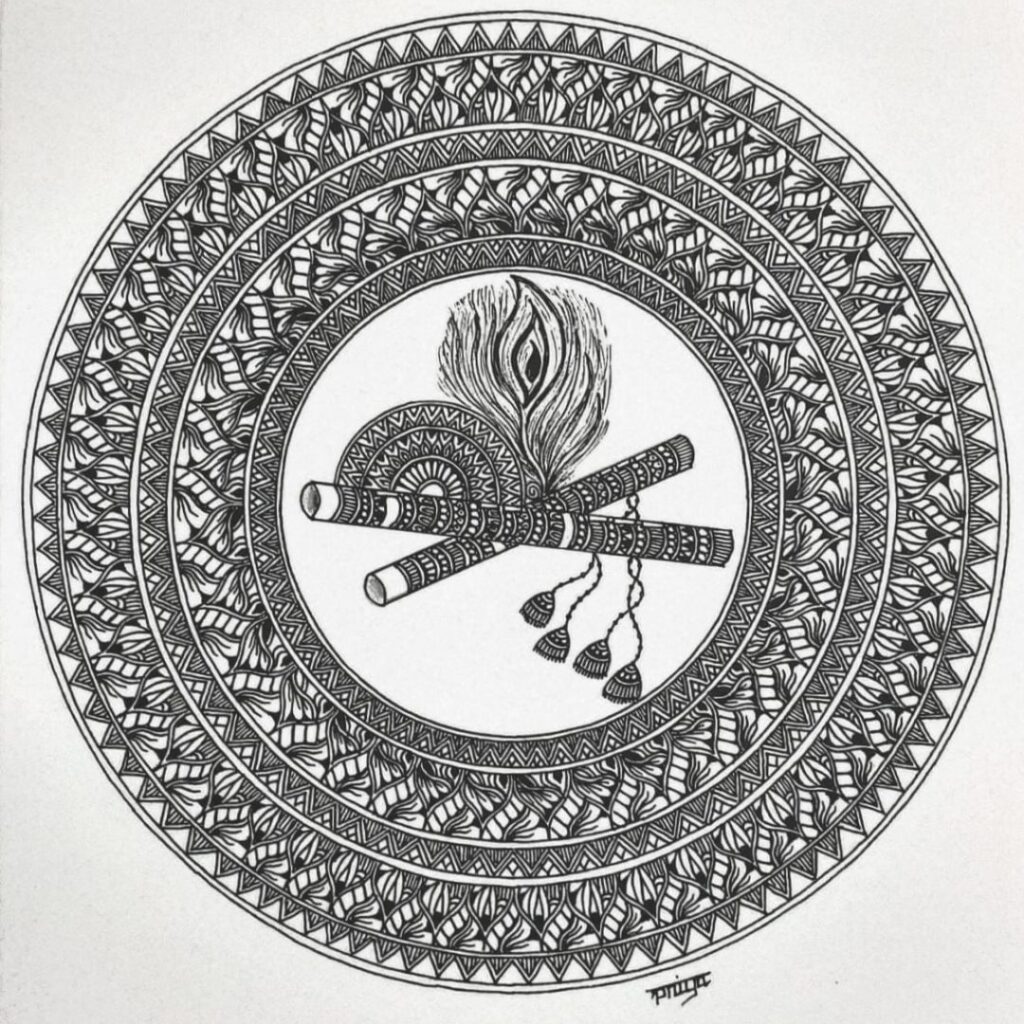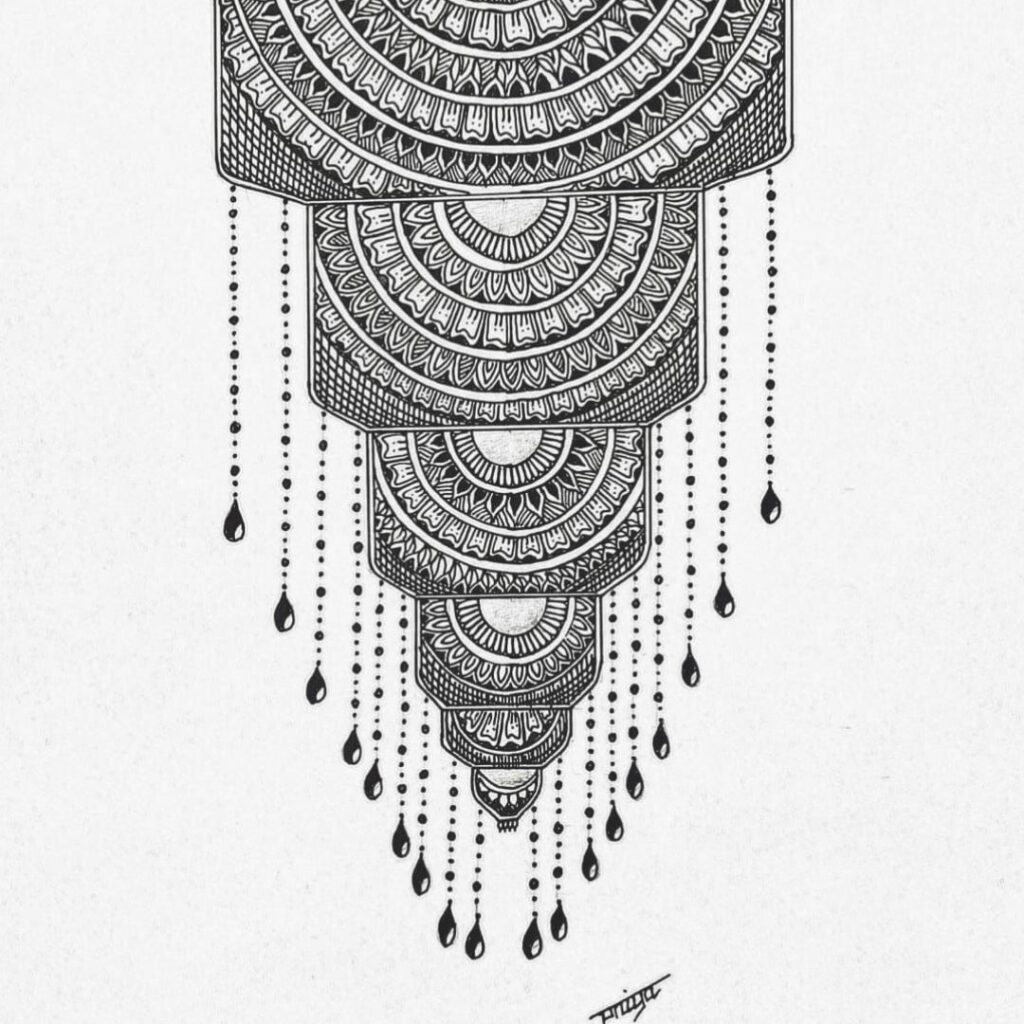 Recently, I have started to include quotes in my Mandalas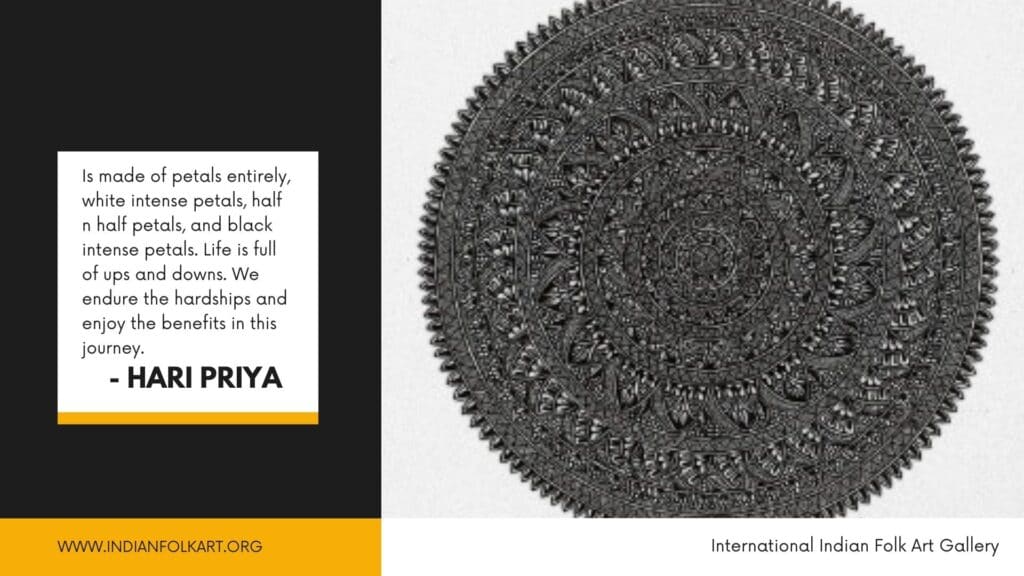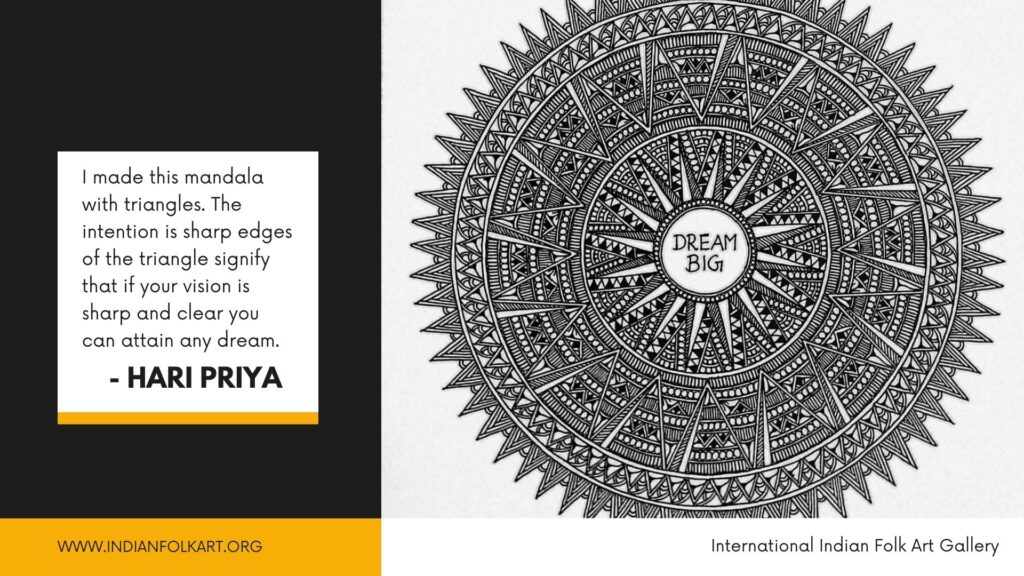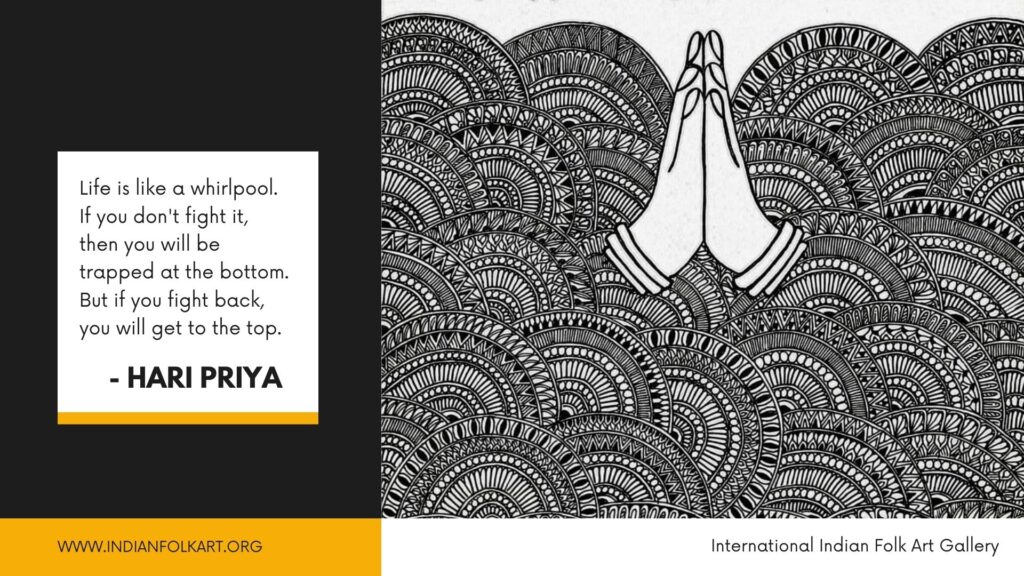 Mandala Art Therapy For Doctors
One of my Doctor friends asked me to do a Mandala art for his clinic. I made this Mandala art with 1764 petals.
1764 indicates humanitarian caring generous wise tolerant etc
1+7+6+4=18
18 signifies blessings for long life
1+8=9 which is the divine number.
The wordings are in red colour. Generally, in my mandala colours are not used. However, for this special order I used red colour to symbolize good health, strength, and power. Most of my Mandalas are in Black and white. Black signifies meditation and deep thinking; White is purity. In addition to the black, white, and red another colour I use green which signifies freshness.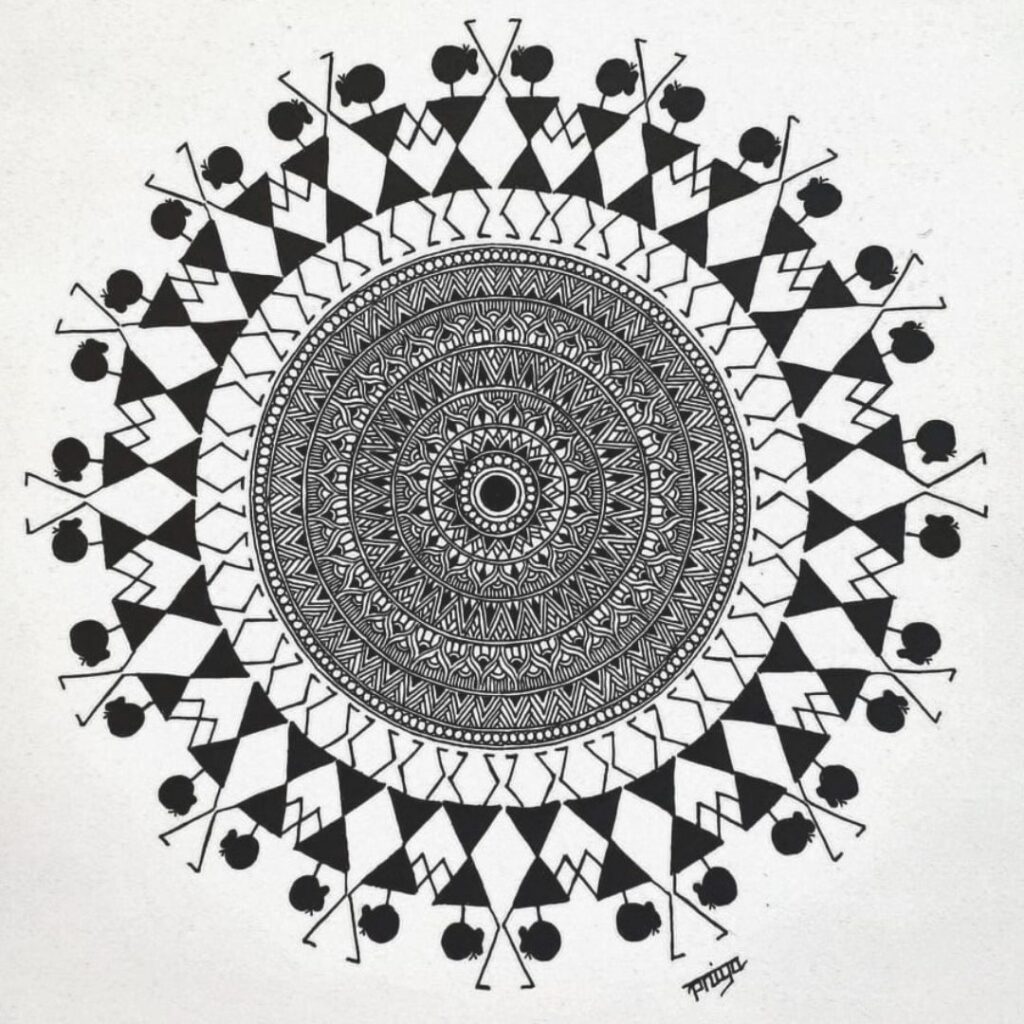 Fusion
When incorporating a pattern care must be taken to make sure this does not become overwhelming and confusing.
I have done fusion with other similar monotone folk art like Warli Art.
Creativity is a must for all artists, but it is essential that the creation is regulated within the norms of the art.
It is important to experiment with different styles and techniques because that can help you grow as an artist. But, at the same time, it is important to know your limits and not cross them to keep up the aesthetic value of the art.
Mandala Art Therapy: Conclusion
Mandala art has changed my life for better. In many cases the mandala art form has secured a peaceful and harmoniums relationship. According to one client after placing the mandala in their house the arguments have considerably reduced and there is general peace within the family members.
I am not sure of the scientific backup. Whenever I am doing this art, I recite my favorite hymn "Sai Ram". This way all the unwanted thoughts are cleared from my mind and the positive energy is embedded in the art. In my opinion, the positive vibe then radiates around wherever it is placed.
These days I do Mandala art professionally and continue with my other passions like poetry and music. I am thankful to the almighty for stirring my boat in a right direction . In adversity we learn a lot about ourselves and through this self-discovery we move to another level of personal growth. I hope you all find your inner passion and remember to use it in challenging times.
Thanks for reading through my experience.
Please do leave your feedback below
Best wishes,
Hari Priya
Sai Ram